Council gives progress update a year on from climate emergency declaration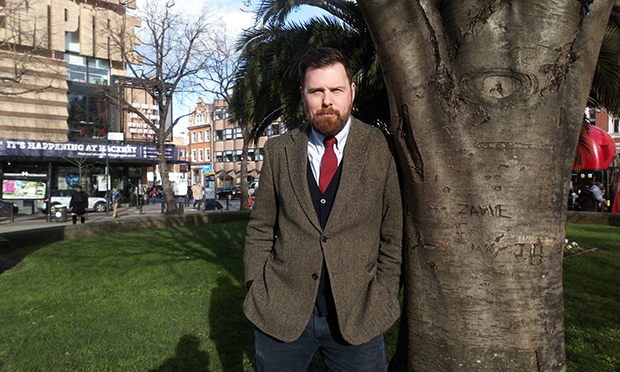 Hackney Council has undertaken its first annual update on its progress in decarbonisation a year on from its declaration of a climate emergency, on the same day that its publicly owned energy company unveiled its first solar power installation at the West Reservoir Centre.
As part of the update, the borough's Mayor Philip Glanville also promised last night to publish annual emissions data, as the Town Hall works on how to improve its analysis, with the results to be taken before a citizen's assembly in the future as an "absolute commitment".
Hackney is committed to a reduction of 45 per cent in its carbon dioxide equivalent emissions against 2010 levels by 2030 and to delivering net zero emissions by 2040.
An extensive rundown on the borough's progress on its environmental work also sets in stone that, according to a report by consultants currently being reviewed internally, that the above targets are "possible" based on initial modelling of energy demand and Hackney assets' carbon emissions up to 2050.
Introducing the update, energy, waste and public realm chief Cllr Jon Burke said: "Low-hanging fruit areas, such as the switch to 100 per cent renewable wholesale electricity procurement, have been identified and swiftly executed, but future actions must not only continue at pace but in an increasingly systematic fashion.
"Amidst the tragedy of the Covid-19 pandemic, there are signs that the public are valuing cleaner air and time spent in nature, and many people have adapted to working remotely.
"As we look to the future, we can see that the coronavirus has created a 'new normal'. Amongst the many other impacts of the virus, it has been a stark reminder that prevention is better than cure. This must mean a renewed, and meaningful, commitment to rapidly reducing emissions of the greenhouse gases that are driving global warming and contributing both directly and indirectly to the world's multiple ecological crises.
"At the June 2019 Full Council, I invoked the great Carl Sagan with the demand that we, as a council, 'don't sit this one out'; noting that we are 'by accident of fate alive at an absolutely critical moment in the history of our planet'. This report documents the crucial steps that Hackney Council has taken in the previous 12 months towards a different kind of future for ourselves, in which peace, prosperity, and security, are underpinned not by mortgaging the future of our children but by living within the finite ecological limits of our only home."
The Woodberry Down councillor also slammed the £3bn in government funding to support a green recovery as "woefully inadequate", comparing it to other funding streams such as £29bn for roadbuilding which increase carbon output.
Burke and the borough's mayor also responded to questioning from members of Hackney Green Party and environmentalists on how the council is measuring its success in decarbonisation, on the timeline for a citizen's assembly to discuss the issues and on carbon emissions linked to the construction industry and the built environment.
According to the update report, by 2040 embodied emissions, or the total emissions generated to produce a building, could be the only remaining significant emissions from council operations, with the update stressing that the inclusion of embodied carbon is a "bold step that signals our ambition to tackle significant emissions from consumption and in particular development."
Hackney will be seeking to "strongly reduce" the embodied energy of new builds with the recently published Local Plan asking every new-build to be zero carbon, though the update admits that some residual emissions in this area would still need to be offset.
The update report presents an in-depth look at the progress made by the Town Hall in establishing multiple schemes to bring carbon emissions down in the borough, with plans on energy strategy and green infrastructure aiming at baking in the commitments on the policy to the council's long-term structures, rather than relying on "the individual enthusiasm and energy" of particular officials.
Schemes brought forward by the council over the past year include:
A shortlist of areas for decentralised district heating network schemes
The Town Hall's pension fund "well over halfway" to its target of divesting from carbon investments by 50 per cent over six years
5,000 new street trees to be planted by 2022, with 31,000 park trees to be planted by the same year
A 21st Century Streets programme aimed at bringing together greening, sustainable urban drainage, tree-planting and community parklets as well as cycling and electric vehicle infrastructure, piloted at Dalston's Colvestone Crescent
An additional 40 School Streets for the promotion of active travel and public transport
Cycle infrastructure schemes aimed at putting 89 per cent of residents within 400m of a cycle route
12 Low Traffic Neighbourhoods to be created or improved, which are groups of residential streets bordered by main roads where through traffic is discouraged or removed
67 per cent of residents now within 500 metres of an electric vehicle charging installation, with an additional 185 charging points to be installed this year
A upgrade programme to the borough's street lights to LED technology, with 7,000 across the borough committed to be installed over the next 3 years
The entire heavy goods vehicle fleet for the council to set at the highest emissions standards as dictated by the EU
Fortnightly residual waste collections to be brought forward, which are predicted to eliminate an annual 5,000 tonnes of incinerated waste
Traffic reduction schemes such as workplace parking levies and road user charges are also understood to be under consideration.
The council is also undertaking a detailed study on how the council's multiple different types of housing stock could be be made more energy efficient, with all major buildings to generate at least 10 per cent of their energy needs from renewable sources.
The use of building materials such as cross laminated timber (CLT) will also continue to be encouraged by the council, which planning committee chair Vincent Stops underlining that Hackney as a hub of such construction has spurred development "across the planet".
The Hackney Central councillor went on to warn that obstacles to the use of such construction were represented by lobbying by the concrete industry and the repercussions of the Grenfell Tower fire, which Stops said had resulted in the government "woefully misunderstanding" its combustibility and "bearing down on its use".
When asked when and how a citizen's assembly on climate change would take place, Cllr Burke said that while such a deliberative process was "most applicable to the objective of exploring solutions to the challenges posed by global warming", that the Town Hall would be undertaking further work on developing the process, including identifying the performance targets to meaningfully track progress and support public scrutiny.
Burke added: "I'm keen to ensure that key stakeholders in the borough who have had an interest in sustainability play a role in scrutinising the council's work in this area. However, I'm equally keen to ensure our future work on engaging with the public does not merely include the usual suspects and extends as broadly as it possibly can.
"The environmental community, however benign its intentions, is not necessarily representative, ethnically, politically, socially or economically, of Hackney, and I we believe as an administration that to ensure that we bring the public with us we need the broadest possible participation.
"Clearly there will be engagement with our key stakeholders, but there will be even more engagement with the keyest stakeholders of all – our residents."
You can read the full update report here