Political pressure increases on Homerton Hospital over outsourced key workers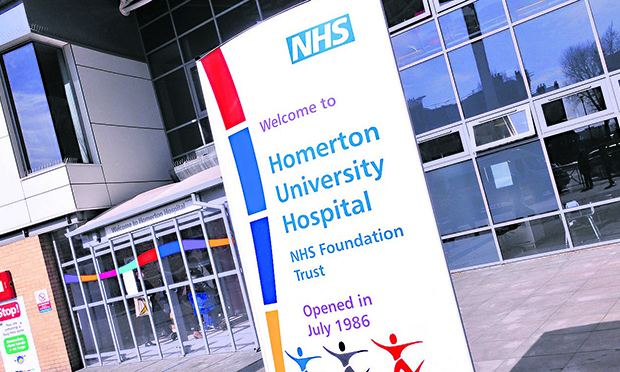 Homerton Hospital is coming under increasing political pressure over its plans to sign another long-term contract with facilities giant ISS, which has been at the centre of a months-long debate over the "miserly" pay deal it offers to some of its staff.
The decision came as a blow to the morale of cleaners, porters and security staff employed through ISS when it was revealed in June, according to trade unions Unison and the GMB, with one cleaner saying at the time that extending the contract for five years could "push people over the edge".
Now both Hackney MPs, Diane Abbott and Meg Hillier, have spoken out on the issue, adding their voices to the borough's constituency Labour parties, its Labour group of councillors, Hackney Mayor Philip Glanville and 170 of the hospital's own doctors to express their concerns over the contract, with Labour calling on the hospital to bring workers in-house in two years at most.
In a joint statement, Abbott and Hillier said: "Underfunding and outsourcing are closely linked. It is sometimes claimed that private companies managing outsourced NHS services save money because of superior management skills.
"The truth is that underfunding relies on underpaying outsourced manual labour. And the Public Accounts Committee [which Hillier chairs] has had companies admit that they have bid low to win contracts. It's quite simply baked into an unsustainable funding model.
"As Labour MPs we want fair pay to be unequivocally Labour policy. And we will do all we can to shift the dial today. The coronavirus pandemic has taught us all that cleaners, caterers, porters and security guards are all key frontline workers. And they deserve justice. It's simply the right thing to do."
When quizzed by local health scrutiny chair Cllr Ben Hayhurst last week on why the Homerton could not simply pay ISS a relatively low sum in the tens of thousands to cover the discrepancies between the deal borne by ISS staff and those on NHS terms, the hospital revealed that while it has a revenue of around £340m, its target this year is simply to break even due to the size of its cost base.
Concerns have been repeatedly raised by trade unions over half of the nearly 300 workers outsourced to ISS not receiving sick pay for the first three days of their illness, after which the key workers receive £95.85/wk, a significant reduction from a salary of £80 to £100 a day, as well as the company's failure to pay the London Living Wage.
Labour councillors in the borough have repeated their own calls for the contract to "at least" include a break clause to bring the workers in-house swiftly, with Cllr Yvonne Maxwell, who sits on the Homerton's board of governors, pointing to Independent Sage expert Professor Allyson Pollock's warnings that low-paid staff will continue to work when symptomatic.
Maxwell added: "I am sure we have all been out and clapped for key workers, and at last cleaners, porters, and security guards are seen as key workers and the important role they play is recognised.
"And yet now we have those very staff feeling betrayed, not valued and expected to accept poorer terms and conditions than the rest of the staff they work alongside.
"They work in the hospital, but are not really part of the Homerton family. I believe this is damaging the reputation of the hospital at a time when it has received 'Outstanding' status [from the Care Quality Commission]."
Labour has also stressed that the workforce is around 72 per cent from a Black, Asian or minority ethnic background, adding that the employer should "take note of the growing Black Lives Matter consensus, which makes it unacceptable for the company to argue that it wishes to save money for services at the expense of fair and equitable working conditions for a majority Black workforce".
When approached for comment, the hospital said that, following discussions with unions and staff, it is seeking improved terms and conditions in its negotiations with ISS, particularly in relation to sick pay, where the hospital is seeking to align with NHS terms and conditions which would ensure access to sick pay from day one, rather than an unpaid opening three days of absence under the government's statutory scheme.
Trade unions have also hit out at the mechanism by which the intention to renew the contract with ISS was announced by the hospital, through the use of a so-called voluntary ex-ante transparency (VEAT) notice, which allows it to bypass the competitive tendering process.
GMB organiser Lola McEvoy stressed at a recent scrutiny meeting that, according to legal advice received by the union, a VEAT notice is usually used "in the very specific circumstances that there were absolutely no problems whatsoever with a contract".
McEvoy added at the time: "This contract locks workers into five more years of, frankly, below-par and poverty-inducing terms and conditions, and says something about how we as a borough value these people.
"There are serious concerns raised about the disproportionate impact that Covid-19 has had on certain ethnicities who are overrepresented in the facilities management contract.
"There have been multiple complaints about ISS from both trade unions about bullying, harassment, and a refusal to pay sick pay to people with very severe illnesses.
"If these things do not flag up ISS as an irresponsible and wholly inadequate employer within our public services, I would be interested to hear how what we and our members have experienced at the Homerton fits with the Trust's decision [to extend]."
Unison have now written to Health Secretary Matt Hancock asking him to intervene on the Homerton's use of the VEAT notice, arguing that it denies other companies a chance to compete for a contract worth an estimated £30m and breaches contract regulations.
The Homerton in response has said that its decision to issue the notice is in line with Public Contracts Regulations and as such is "entirely regular".
Unison London regional secretary Maggi Ferncombesaid: "This is an outrageous and blatant attempt to get around the rules. It drives a coach and horses through UK and EU regulations.
"Matt Hancock should put the brakes on this contract until there's been a full investigation into the issues. Otherwise unions will be forced to make a formal challenge to the awarding of the contract."
A spokesperson for the Homerton said: "We published the VEAT notice in the Official Journal of the European Union to inform the market of our intention to reach a contract with ISS through a negotiated procedure – the provisions of Section 32 [of the Public Contracts Regulations] allow us to do so and we included a full justification for doing so in the VEAT notice.
"ISS is uniquely placed to continue to deliver soft facilities services at the Trust given the economic and health uncertainties that lie ahead. Economic operators are free to challenge that intention but as yet none have done so. The VEAT was published on 3 June 2020.
"In negotiating the new contract with ISS we have included the vast majority of the services and performance requirements that exist in the current contract on a like for like basis, and which ISS has previously met to a high standard.
"The Trust greatly values the contribution that every member of the ISS team makes to the successful running of our services and the high quality level of care we are able to offer to the people of Hackney and the City."
An ISS spokesperson said in response to the GMB's statements earlier in the month: "ISS is a responsible employer, committed to the wellbeing of our employees. We have a long and proud history of providing high quality services to the NHS and greatly value our teams and the work that they provide.
"We have an open and honest culture where employees can approach any manager with any issues. If any employee does have a concern, we would encourage them to report this immediately to a member of the onsite management team."