Photography: We Grieve by Fran Hales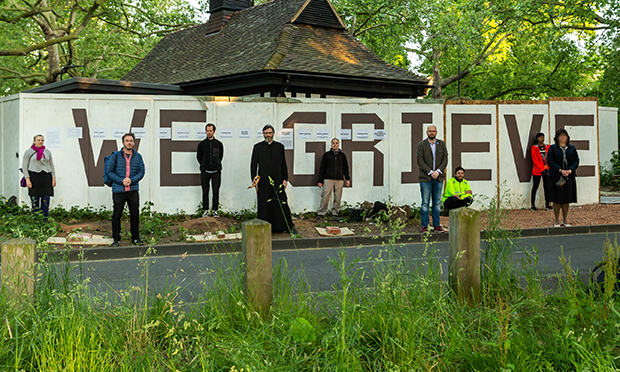 Every Thursday for much of the lockdown, before the clap for key workers, people would gather for a ceremony at the coronavirus memorial wall on Clapton Common.
Photographer Fran Hales documented these moments of collective mourning and describes the experience below.
Sisters Ella and Leona Lewis sound a Tibetan bowl to start a minute's silence
Father William Taylor leads the weekly non-religious ceremony
Community supporters Carmen Anderson and Sharon Grant watch on
Hackney Mayor Philip Glanville at the final ceremony
Locals come together for the last evening ceremony
Local residents Cian (left), a parishioner, and Jake, who is working on a community history project
Ann-Marie Burnett Charles remembers a lost relative
Genevieve Burnett's name is pasted on the wall along with a message from her loved ones
An onlooker holds a flyer about an oral history project to collect stories of Clapton
Social distancing in action at one of the weekly ceremonies
The gatherings were an opportunity for locals to meet new people and catch up with friends
We Grieve caught the attention of the national press, who heard from members of the community
Mayor Glanville pastes the name of community stalwart Rabbi Avrohom Pinter to the wall
The Clapton Commons community group will continue to meet on the final Thursday of every month
I first found out about the We Grieve 'memori-wall' through a local community Whatsapp group. As a freelance photographer with no work during lockdown, I had been on the lookout for interesting stories to document and this sparked some interest.
Set in Clapton Common and surrounded by huge old trees, the We Grieve mural is easily recognisable from the street.
The first time I went to the weekly, non-religious ceremony, I was taken aback at how lovely the setting was. I observed how this very simple but poignant collective grieving was so needed in the community, with funerals delayed and people unable to mourn or pay respects to loved ones.
Over the weeks, I have seen such a diverse group of people gather every Thursday evening. We have been fortunate that most evenings were bathed in sunlight, which added to the atmosphere.
There has been storytelling, singing, musicians and silent vigils to help coincide with the pasting of the names on the wall to commemorate those who have passed.
In times like these, this very simple weekly event has provided a safety net and given support to the people who make up the fabric of this community.
My normal day to day used to be hectic, but lockdown has provided me with space to slow down and observe what is happening around me.
It was a really nice experience documenting We Grieve and getting to know members of the local community.
The We Grieve 'memori-wall' was created by community group Clapton Commons. The circle will be holding community meetings outside Liberty Hall on the last Thursday of every month at 7.30pm. For more information, visit claptoncommons.org
The full series of photographs is available at franhales.com/we-grieve