Public health expert urges Homerton Hospital to 'financially protect' contracted workers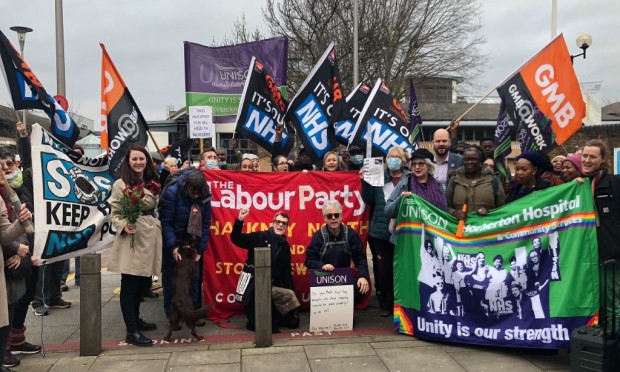 A highly regarded public health expert and member of the Independent Sage group of scientists has called on the Homerton Hospital to guarantee "full financial compensation" for contracted workers if they fall sick or have to self-isolate. 
The high-profile intervention was made by Professor Allyson Pollock, director of the Institute of Health and Society at the University of Newcastle at a recent meeting of a council commission scrutinising health in the borough.
The announcement that the Homerton is considering a five-year extension of a contract with facilities giant ISS sparked anger from trade unions Unison and the GMB recently.
The unions have been calling for the contract to be brought in-house following national headlines about some ISS staff who said they were left with no choice but to come into work ill due to the level of their statutory sick pay terms.
Pollock stressed that low-paid workers "continue to work when symptomatic", warning staff may not declare themselves or go into quarantine, adding: "Financial remuneration is vital, and as the Trust seeks to renegotiate this contract, this is a very big question to ask.
"It's vitally important that all staff have full financial protection if they fall ill or have to quarantine. Such protection contributes to effective infection control in a hospital setting. Contracts should be reviewed and not renewed if such financial protection is not in place."
A spokesperson for Unison said: "ISS staff have worked through the Covid pandemic with the rest of Homerton staff, taking the same risks. A five-year extension to the ISS contract is a betrayal by Homerton management.
"The contract is cheaper because ISS don't pay NHS rates or proper sick pay. ISS staff, 80 per cent of whom are from black and minority communities, will pay the price for the next five years. NHS pay for NHS work would be a start to tackling inequalities at the Trust."
The Homerton did not immediately respond to requests for comment on Professor Pollock's intervention.
The hospital said earlier this month that it has "sought assurances" from ISS over a number of issues, including the payment of the London Living Wage, adding that some ISS staff remain on NHS terms and conditions, having been transferred from a previous in-house employment.
The hospital has stressed that ISS staff are "part of the Homerton family" in maintaining the workplace's high standards of cleanliness, serving healthy food to patients, and providing "exceptional" security to staff and patients.
A spokesperson for ISS said at the beginning of the month: "ISS is a fair and responsible employer, committed to the wellbeing of our employees. We greatly value our employees and the service that they provide to our customers.
"Employees across ISS Healthcare receive at least full statutory sick pay in line with the government scheme and industry practice."
Statutory sick pay amounts to £95.85 per week, with Unison saying that ISS is continuing to refuse to honour the agreement to pay London Living Wage reached in April 2020 or to offer staff backdated pay. The company posted profits of £167m in 2019, according to Statista figures.
Cllr Yvonne Maxwell, Hackney Council's appointed governor at the Homerton, said: "All our cleaners, porters, catering and security staff are vital to our hospital. But once the clapping stops, they still be on second-class terms and conditions if this deal goes through.
"A five-year contract that offers no improvements for the workers is unacceptable. If senior managers and doctors are not expected to survive on statutory sick pay, the lowest paid workers at the Homerton shouldn't have to either."
Update: this article was amended at 11:55 on Sunday 5 July 2020. Professor Allyson Pollock is a member of the Independent Sage group of scientists, rather than the Scientific Advisory Group for Emergencies.