Black Lives Matter: What can you do?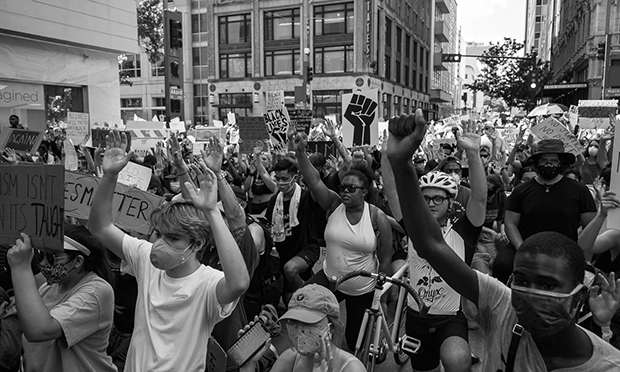 On 25 May, George Floyd, a 46-year-old Black American man, died in Minneapolis, Minnesota, after being restrained by four police officers, including Derek Chauvin.
The prosecutor's report states that Chauvin knelt on Floyd's neck for eight minutes and 46 seconds, and video footage shot by passers-by shows Floyd saying 'I can't breathe' before becoming unresponsive.
Floyd's death, and the subsequent failure of the state authorities to react quickly or effectively to the events that caused it, sparked protests which have spread across the United States and the rest of the world.
A movement demanding justice for one man quickly morphed into a wider demonstration against excessive use of police force against Black citizens and institutional racism more widely.
At the time of writing, Chauvin's charge has been amended from third-degree murder to second- degree murder, while his three colleagues have now been charged with aiding and abetting second-degree murder.
Given the timeline of events, it would seem the protests were instrumental in forcing the authorities to act.
Over the last weeks, London too has seen thousands gather in solidarity, with protests from Hyde Park to Trafalgar Square and Downing Street.
Some protesters held up signs with the words 'The UK is not innocent' – an important reminder that, while America hits the headlines, Black people in the UK continue to suffer inequality and unfair treatment at the hands of state authorities.
The coronavirus crisis has brought this systemic inequality into sharp relief; the Office for National Statistics has said that Black Britons are 90 per cent more likely to die from Covid-19 than their white counterparts.
George Floyd's death could be a turning point for race relations not just in the US but in the UK too. And many people – particularly white people and non-Black people of colour – are asking what they can do to help.
This is in itself a difficult question, and Hackney councillor Carole Williams points out that there is no easy solution: "Since the murder of George Floyd on the streets of Minnesota in what can only be described as a modern day lynching, I have read and heard many suggestions on how individuals can help.
"The truth is, centuries of enslavements, racism, and suppression cannot be distilled down into a single action point. The enormity of what was caught on camera defies oversimplification.
"We can and we should stand in solidarity with George Floyd's family and Black people around the world who have been left reeling from the events that took place last week. This could be donating to funds set up to support his family during this incredibly difficult time or it could educating ourselves about the insidious nature of structural racism and the ways in which conscious and unconscious bias support it.
"If we are to have any hope of  dismantling the structures that led an officer of the law to violently and ruthlessly take the life of a man in the belief that the justice system would frame George as a villainous Black who was so dangerous, deadly force needed to be used to stop him, we must to stop thinking in terms of simple answers."
We must accept that anti-racism is a process; a journey. There are many ways to engage, including self-education, educating others, demonstrating, signing petitions, and donating money to organisations that protect the Black community.
Some suggestions and resources are listed below, but bear in mind that this is by no means an exhaustive list.
What to read
The following suggestions range from essays and treatises to fiction; it's important to read a wide range of work by Black writers.
I am starting with some of the explanatory non-fiction texts but looking forward to diving into some more literary and fictional works too.
Why I'm No Longer Talking to White People About Race by Reni Eddo-Lodge
Natives: Race and Class in the Ruins of Empire by Akala
White Fragility by Robin DiAngelo
The New Jim Crow: Mass Incarceration in the Age of Colorblindness by Michelle Alexander
I Know Why The Caged Bird Sings by Maya Angelou
The Vanishing Half by Brit Bennett
Girl, Woman, Other by Bernardine Evaristo
'The racist legacies of the past are woven into the fabric of our present' by Tamsin Ssembajjo Quigley
Letter from Birmingham Jail by Martin Luther King Jr.
Black and British: A Forgotten History by David Olusoga
Slay In Your Lane: The Black Girl Bible by Yomi Adegoke and Elizabeth Uviebinené
Many of these are also available as audiobooks; an abridged version of Evaristo's Girl, Woman, Other is currently free to listen to on BBC Sounds.
What to watch
13th (2016) is a documentary about racial injustice and hypocrisy in the American prison system
Belle (2013) tells the true story of the illegitimate mixed-race daughter of British naval officer Sir John Lindsay, and her struggle for equality in late 18th-century England
I Am Not Your Negro (2017) is based on the writings of James Baldwin and touches on the work, and the assassinations, of Martin Luther King Jr., Malcolm X and Medgar Evers
Dear White People (2019) is a Netflix drama focusing on the lives and challenges of a group of Black American students at a predominantly white Ivy League college
16 Shots (2019) discusses the 2014 Chicago shooting of 17-year old Black American Laquan MacDonald by police officers, and the subsequent cover-up by the authorities
How to get your kids involved
As school closures continue for many children, the prominent Hackney campaigner and cultural historian Patrick Vernon OBE highlights an important project they can take part in from home.
The competition '100 Great Black Britons' offers young people the opportunity to dress up as their favourite Black Briton, create a project, or write an essay honouring the legacy and heritage of Black Britons.
Vernon says that the project is all about "celebrating Black British history", pointing out that the current National Curriculum focuses more on the American Civil Rights movement than "the Bristol [Bus] Boycott or anything else that happened in Britain".
There is a growing movement to put pressure on the government to amend the National Curriculum, ensuring that Black British history is honoured as it should be.
In the meantime, children can also learn through reading.
This Guardian list of anti-racist books from young people is a good place to start.
What to sign
While Black Lives Matter protests continue across the world, the coronavirus crisis continues.
Vernon urges us not to forget that the virus is causing "disproportionate deaths" to BAME communities in the UK.
A review published by Public Health England on 2 June found that BAME people were up to twice as likely to die from COVID-19 as their white British counterparts.
But the review was widely criticised for failing to offer concrete recommendations for protecting BAME people.
Vernon, who pans the review as a "joke", points to petitions on the websites 38 Degrees and Ubele demanding an independent public inquiry into the disparity in death rates from Covid-19.
There are numerous other petitions circulating which demand justice for those killed by police brutality, and pushing for systemic change, including changes to the National Curriculum.
However, it is worth noting that the government is only legally obliged to respond to petitions if they come from the official petition site at parliament.uk and have 10,000 signatures.
One thing that will certainly make a difference is emailing your MP.
Amnesty International suggests a good email template with the subject line 'Take racial injustice seriously'.
Where to donate
If you're in a position to help financially, it's worth doing some research and deciding which organisations you feel most strongly about.
Organisations range from those supporting protesters by standing bail for those arrested, to groups protecting Black communities across the world.
However, there are also many initiatives close to home, such as IRIE Mind, a mental health initiative run for and by the Black community in Hackney. The initiative is led by the charity Mind in the City, Hackney and Waltham Forest.
Vernon also suggests the Majonzi Covid-19 Bereavement Fund, which is collecting money for memorials and tributes to those who lost their lives to coronavirus.
Collective accountability and action
Ultimately, there are many lanes of engagement. Not everybody will be able to work in every lane. But if each of us does what we can, we can create real change.
Structures and social systems are there to serve us, not the other way around – and the changes to the arrest and charge of Derek Chauvin and his colleagues show that public movement can force authorities to act.
George Floyd was American, but the global outpouring of support and protest following his death shows that this fight belongs to us all.
A spokesperson for Hackney Stand Up To Racism said: "Our best way of fighting racism is in unity. Anti-racists are the vast majority and our strength is in solidarity and organisation and a refusal to concede a millimetre to the racists.
"That's how the racist National Front were broken in the 70s, and how we saw off the BNP and how we stopped the EDL.
"When the government and the populist media […] try to smear and attack immigrants we have to say that we are ALL immigrants. When they attack Muslims we say we are ALL Muslims. When they attack travellers we say we are ALL travellers.
"Pastor Neimoller's poem First they came remains powerful because it's true. And Angela Davis was correct when she said, 'In a racist society it is not enough to be non-racist, we must be anti-racist.'"
Update: this article was amended at 14:15 on 10 June 2020 to conform to our editorial guidelines