Hackney Council to re-open markets safely – though not by 1 June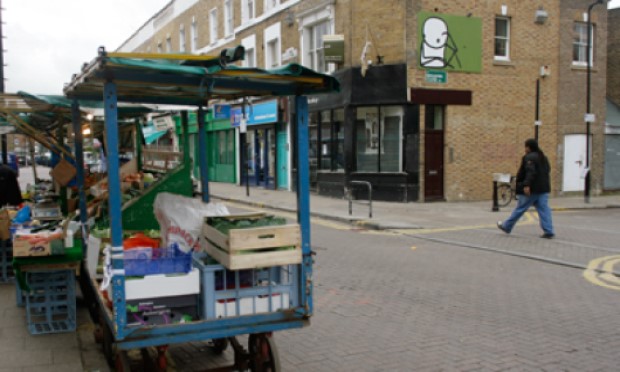 Hackney Council is working to re-open its outdoor markets following Prime Minister Boris Johnson's announcement that they will be allowed to from 1 June.
All markets and street trading, with the exception of Ridley Road Market, were halted by the Town Hall back in March, following widespread concern over the difficulty in maintaining social distance for both residents and traders.
While the council's markets team continue to work on plans to restart trading in a phased way, it is understood that 1 June itself will not see a re-opening of markets in the borough due to the impossibility of making sure the public and stallholders would be safe by that date.
Cllr Guy Nicholson, who leads on inclusive economy for the council, said: "The council's markets team have been contacting many of the borough's market traders over the course of the lockdown and we know that many of them, as well as residents, are keen to see our street markets open as soon as possible.
"However, this can only happen when traders and residents can be confident that the right market layout and social distancing measures are in place to keep everyone safe.
"The markets team have been planning with traders how best to implement the safe and phased reopening of Hackney's street markets and the council will keep everyone updated."
Nicholson stressed that Ridley Road Market remains "fully operational", selling food, household cleaning items and other essential items, with trading hours of 8am to 3pm, Monday to Saturday.
Residents remain advised not to visit Ridley Road unless absolutely necessary, with visitors expected to observe two-metre social distancing rules and gatherings of more than two people to be dispersed.
The council manages five other street markets – Broadway, Chatsworth Road, Hoxton Street, Kingsland and Well Street markets, all of which remain subject to the same cessation of street trading activity announced in March.
Many stallholders are struggling with the economic impact of the coronavirus crisis, with the Town Hall's markets service reporting back in March that many traders have told it that they are "making little or no money at present".
Those not trading, as long as their licences are renewed, are understood to not have had to pay for their pitches during lockdown.
Prime Minister Boris Johnson announced two days ago that outdoor markets and car showrooms would be able to reopen from 1 June as long as they could demonstrate they are Covid-secure, with the government saying that the risk of transmission of the virus is lower in outdoor spaces.
All other non-essential retail, including clothes, shoes, furniture and bookshops, are expected to be able to reopen from 15 June, according to the government, as long as its Five Tests around public safety are met.
Business secretary Alok Sharma said: "The high street sits at the heart of every community in the country. Enabling these businesses to open will be a critical step on the road to rebuilding our economy, and will support millions of jobs across the UK.
"The guidance we have set out today provides a vital framework to get shops open in a way that is safe for everyone. It explains how retail workers who are not currently working can go back to work as safely as possible and feel confident in their workplace. And it reassures customers that shops are properly assessing the risks and putting in place measures to protect them."
The guidance for retail around coronavirus can be found here – https://www.gov.uk/guidance/working-safely-during-coronavirus-covid-19/shops-and-branches