Council considering how to restart housing repairs after lockdown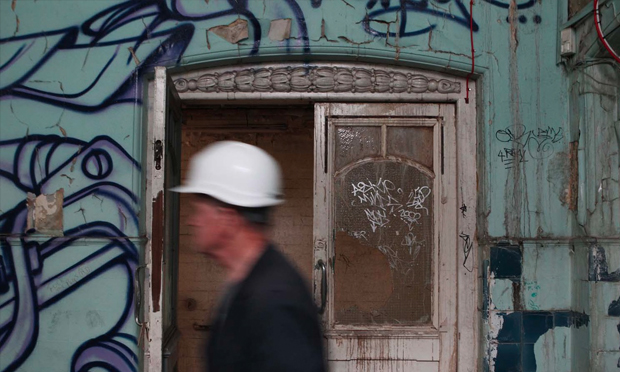 Hackney Council is planning how to resume maintenance and fire safety works on its housing stock after putting the majority of them on pause during lockdown.
The Town Hall is still carrying out emergency repairs such as boiler maintenance if residents are at risk or a property is in danger of serious damage, but any other work that requires access to residents' homes is on hold.
This includes kitchen and bathroom renewals, window fittings, and the council's wide-ranging fire safety door replacement programme, which calls for all blocks of ten storeys or above to have entrance doors which can resist a blaze for a minimum of 30 minutes.
As part of its preparations to make sure works can take place, the Town Hall moved last night to extend its contracts for planned and responsive maintenance works to its housing stock into next year.
The contracts, with providers Engie, Mulalley and Wates Group, had been due to end on 31 August, and cover a wide range of activities, from the fire door project to schemes such as renovations of void properties or emergency asbestos removals, which are continuing where safety and social distancing measures can be put in place.
Sinead Burke, head of property and asset management for the Town Hall, said: "The lockdown has had two significant impacts on service delivery which has necessitated this extension request. Firstly, our current programmes are highly disrupted. Most of our projects are paused onsite.
"Whilst construction works can generally continue, our maintenance works tend to involve access to people's homes, which is not considered appropriate at this time.
"Secondly, the lockdown has disrupted procurement work for replacement contracts. Key staff are diverted to planning coronavirus respone, and the construction market is undergoing a short term period of significant disruption, which may make it unsuitable to procure long-term contracts. To be confident about value for money, we would like to procure in a stable market."
The Town Hall has also postponed any consultation notices to be sent out to leaseholders during lockdown, resulting in delays for new projects, as the council tries to figure out how to resume work once the lockdown is lifted.
External wall insulation (EWI) which did not comply with fire safety standards has now been replaced by the council at five tower blocks, with the council preparing to replace it at a sixth.
It is understood 400 dry risers have now been installed in Hackney Council housing, with a sprinkler system installed in one block under the current contract, but according to Burke: "It remains something of an unknown whether we'll need to put in more, as there has been no direction from government yet on whether it will be mandatory to put in elsewhere."