Coronavirus: Delivery of wrong tests to blame for delays at mobile centre in Dalston, says council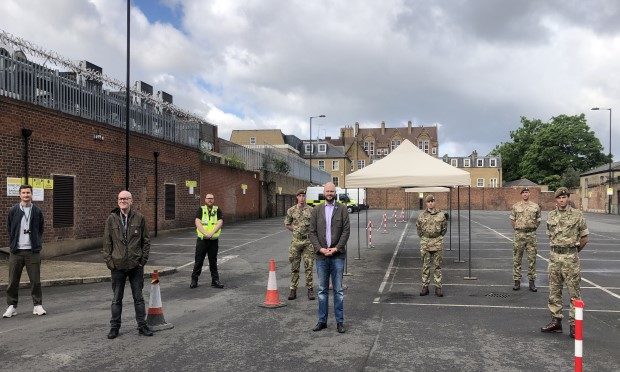 Delays in tests carried out at a mobile centre in Dalston occurred due to the wrong ones being sent out by private company Deloitte, according to Hackney Council.
The centre, reserved for eligible patients showing Covid-19 symptoms, first came to Hackney on 1-2 May, with a second visit on 7-9 May.
However, difficulties soon became apparent on 2 May, with the council telling residents that tests would be delayed due to "unforeseen circumstances".
The Citizen later learned that delays had occurred due to the wrong batch of tests being sent out by accounting and consultancy firm Deloitte, a fact confirmed by Cllr Chris Kennedy, who leads on health for the Town Hall, in a recent interview.
Deloitte has been working with the Department of Health to help increase testing capacity across the country.
Concerns have recently been raised nationally around the outsourcing of testing logistics to private companies, with the Guardian reporting last month that a centre linked to Deloitte had lost test results for NHS workers or sent them to the wrong people.
Cat Hobbs, director of campaign group We Own It, said: "I think it's disgraceful that Deloitte have been given this contract, and it's already screwing up.
"That's having a direct impact on how we can deal with this virus as quickly and effectively as possible.
"If the mobile testing unit was only open for two days and there had to be a scramble because of Deloitte's mistakes, it's just more evidence that we don't need these private companies involved and we should be relying on the public sector, whether that's the army, local government or NHS workers, to deliver a safe, reliable service."
Cllr Kennedy confirmed that the army bore no responsibility for the wrong tests being delivered to the centre.
The health boss said: "The army went and picked up Saturday's testing kit from Deloitte, got it back to Dalston, unpacked it, and someone who knew what they were meant to be unpacking said, 'These are the wrong tests. They've given us the wrong kit'.
"Deloitte gave the army the wrong kit and they had to take it all back and get the right stuff, so instead of starting at 10.30am on Saturday, they started at 2pm. They lost three and a half hours, when it was only there at the time for two days."
Cllr Kennedy added that those working at the centre stayed later so that everyone who had booked could get a test, adding: "The minute they realised what was happening, they got in touch with people who had been booked in, so you did not have the ridiculous scenario of people who thought they might be ill standing in a queue for hours."
It is understood that Deloitte, while not running or managing any Covid-19 test centres, is supporting the governing in accelerating and scaling testing capacity.
Those applying for the pre-booked centre also found the process at times difficult and confusing, with the council itself having to explain the government's website to users because of a lack of clarity over whether the service could be used on foot rather than by drivers, or by over-65s who were not key workers.
The Town Hall, according to Kennedy, is "taking stock of all this as it goes along", with the local authority understood to be preparing for a role in contact-tracing amongst its population.
The council will need software to access information on positive cases, as it awaits a decision by Public Health England on how cases will be defined, from someone who has tested positively on a particular type of test at one end of the spectrum, to those self-reporting with a temperature at the other.
Kennedy also expressed his worry, which he said was shared by council leaders, as to whether government would "poach" contact-tracing specialists from local authorities or if it was planning to retrain others to form the army of 18,000 tracers it has pledged to put together by the middle of this month.
Kennedy added: "The problem at the moment is test capacity. They literally don't have enough tests.
"In an ideal world, you mail a home test to everyone, everyone does a reliable test, bingo. You know who's infected, where they are and people have simple instructions on how long they, and those they have had contact with, have to stay at home. The government clearly does not have the capacity to do that, and was never planning to, I don't think.
"Also, I can test negative today, but if I'm going to go and see my mum in three weeks' time, I want to take a reliable test the day before I see her, so that I know when I walk in her front door that I'm not Covid-positive. You want that sort of reassurance, but I think as a society we're a long way from that."
Deloitte was approached for comment, but referred the LDRS to the Department of Health.
Later a spokesperson told the LDRS that "no incorrect tests were provided," but that one type of kit was "changed" after a decision was made by the programme as a whole, with all tests accounted for.
Deloitte has also said it is not responsible for the sourcing of test kits.
The Department of Health and Social Care was approached for comment, but had not responded by time of going to press.
EDIT: This article was updated at 10:46 on 12th May 2020. The original version incorrectly stated the test centre was run jointly between the army and Hackney Council. The Town Hall supports the military and partners in the health service on communications and localised logistics such as traffic controls around the test centres. The test centre was in fact jointly run between the army and the Department of Health. 
EDIT: This article was updated at 10:50 on 12th May 2020 to include further comment from Deloitte.