Hackney Mayor's partner under investigation by Labour for comments about Jewish advocacy group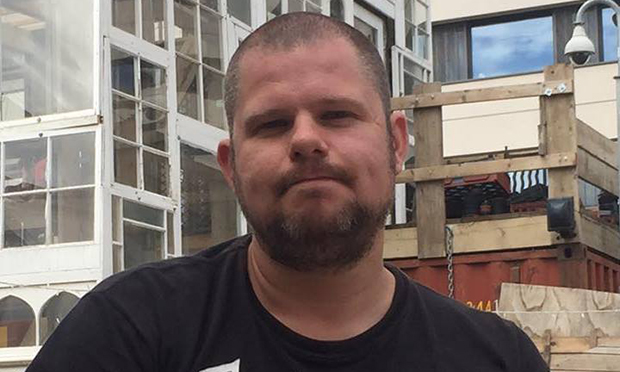 The Mayor of Hackney has condemned comments made by his own partner about the Board of Deputies of British Jews (BOD) as "completely unacceptable".
Tweets by Craig Parr, an activist who was elected LGBT officer for his local party, are now being investigated by the Labour Party.
His comments, first reported in the Jewish News, were made in response to the resignation of former general secretary Jennie Formby, after documents detailing the party's handling of antisemitism allegations were leaked.
Screenshots show Parr wrote: "Who will the Board of Deputies chose [sic] to replace her?"
He also wrote "Hahaha that make [sic] me laugh" at the suggestion by another commenter that Labour was able to write to the chairs of all constituency parties in acknowledgment of a strong desire to discuss the leaked report because the "BOD gagging order has apparently been lifted".
Responding to questions from the Citizen on his partner's tweets, Mayor Philip Glanville said: "I wholeheartedly disagree with these comments, they were completely unacceptable."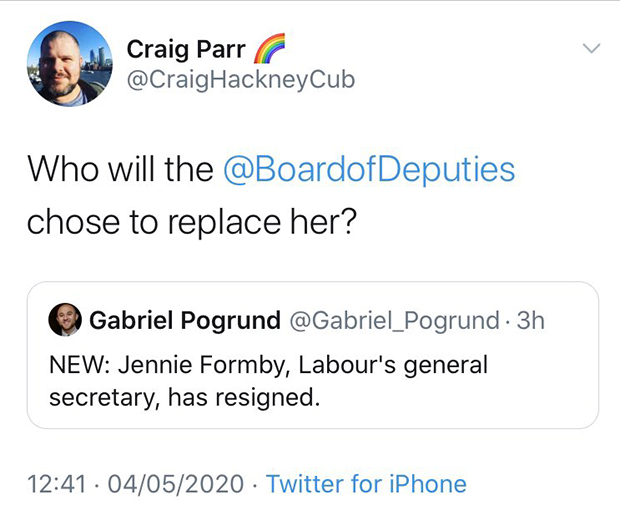 The BOD is an advocacy group which exists to promote and defend the civil and religious rights of Jews across the UK, and has made strong calls for the Labour Party to tackle antisemitism within its ranks.
It has been forthright in its condemnation of former leader Jeremy Corbyn, accusing him of allowing anti-Jewish racism to "run amok" in the party on his watch.
The group released its Ten Pledges on antisemitism for Labour leadership candidates, to which all contenders signed up, at the beginning of the year.
The Pledges are:
Resolve outstanding cases
Make the Party's disciplinary process independent
Ensure transparency
Prevent readmittance of prominent offenders
Provide no platform for bigotry
Adopt the international definition of antisemitism without qualification
Deliver an anti-racism education programme that has the buy-in of the Jewish community
Engagement with the Jewish community to be made via its main representative groups
Communicate with resolve
Show leadership and take responsibility
More recently, the BOD urged "swift and decisive action" over an online meeting of activists which included some who have been expelled from Labour as well as Hackney North MP Diane Abbott, saying this was a breach of its pledges.
A spokesperson for Hackney South constituency Labour party: "We were made aware of the tweet after it had been taken down.
"These comments are clearly unacceptable. In line with disciplinary rules, the national party is now investigating and will take appropriate action."
The BOD had no comment to make.
Craig Parr could not be reached for comment.