Hackney UNISON: 'There's never been a more important time to join us'
Like everyone, Hackney UNISON (Local Government Branch) has had to adapt and find ways of working that reduce the impact of COVID 19. In these extraordinary times we have had to move fast to make sure we continue to support our members and negotiate with employers to ensure that their reactions to the crisis do not discriminate against or put our members at unnecessary risk.
Hackney UNISON (Local Government Branch) has been inundated with members seeking advice and clarification on their employment rights during this period. Together with the other trade unions, we've lobbied management teams at Hackney Council and the Learning Trust over recent weeks and achieved a number of successes:
extended dependency leave entitlement
ensuring front-line staff are provided with the required and sufficient Personal Protective Equipment
Coronavirus-related absences being excluded from sickness triggers
preventing any non-urgent actions (sickness reviews, disciplinaries) from commencing for the time being
covering agency staff pay to 80% threshold if furloughed
It's in unprecedented times such as these that public sector workers have once again met the challenge and are making themselves and the community proud. Care Workers, Schools and Early Years Workers, Waste Operatives, Gardeners, Estate Grounds Workers, Social Workers, Cleaners, Repairs Operatives and the hundreds of staff volunteers who have been redeployed across the community, to name but a few, despite significant strain and pressure, are still working and ensuring vital services continue to run and the most vulnerable are looked after.
Hackney UNISON (Local Government Branch) are incredibly proud of the way our members have stepped up to the challenge and continued to work, especially our colleagues in the NHS. Of course, the biggest thanks goes to all NHS staff and particularly those at Homerton Hospital – we send our gratitude, solidarity and support to you all and stand in solidarity with our brothers and sisters at Homerton Hospital NHS Trust UNISON branch.
But the fact is they could not do their work without all the other essential workers, bus drivers and delivery drivers, the cleaners, porters, care workers, or the teaching assistants and school caretakers keeping the schools open for their children whilst they are at work.
As one of our members put it:
"When 'Clap for Carers' began I was very moved and proud of the public's response and support of the people working on the 'front line'. There is something inspiring and beautiful about the collective outpouring of gratitude and admiration of the staff working in the NHS and other essential services. Knowing that the British public value and support their work is reassuring. I could not help but feel cynical when I saw images of Boris Johnson and other politicians joining in, the neglect and underfunding of the NHS has been obvious for years and a recurring feature of every conservative government in my lifetime."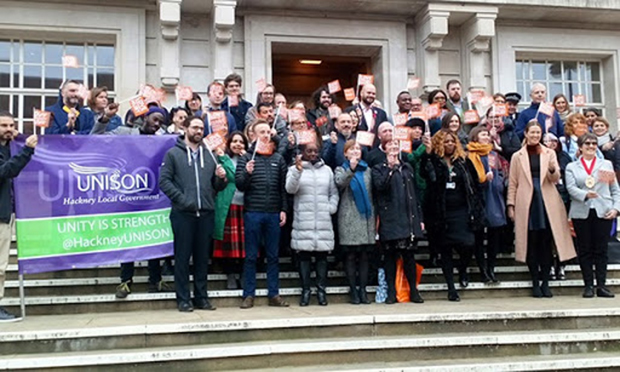 For Hackney UNISON (Local Government Branch), the part-privatisation of the NHS and the reckless "internal market" created and maintained by successive governments, coupled with the potential sell-off in any post-Brexit Trade Deal, should leave us all worried for the continued survival of the NHS in anything but name.
Whilst this Covid crisis has been ongoing, the government has been telling us to protect the NHS and have been full of praise for the people who work in it (how could they not be?). They also seem to have noticed that many of the people they now rely on to get us all through this crisis are people on the lowest wages and weakest terms and conditions – often working in zero-hour contract roles or in an agency arrangement! Workers without job security who have not had an above inflation pay rise in well over a decade.
Hackney UNISON (Local Government Branch) will work hard when this crisis is over to remind both bosses and politicians of the debt we all owe to our members and other frontline workers who were there for us through this crisis. We will have to work with all those in society to see that these workers get the recognition they rightly deserve before the government tries to make out to us that there is no money left after bailing out 'Big Business' again!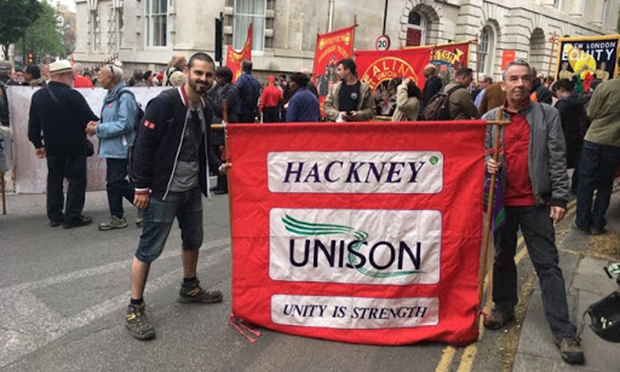 As we all try to get back to some sort of 'normality' and get distracted by the reality of paying our bills (and exorbitant rent and mortgages) and getting a haircut! Seeing friends and family and, maybe for the lucky, booking a holiday, we will have to ensure that we hold this government to account and make sure they remember their phrase 'Protect the NHS' both now and into the future. For Hackney UNISON (Local Government Branch), UNITY IS STRENGTH. Through our members, we find the strength to fight collectively for the future of not just our union but the services we provide for the community because we are the public sector!
You might think that you are okay, that you get on with your manager, that you work hard? Joining a union really isn't just about protecting you at work, about maintaining standards, training, and equality (although unions do that). Joining a union is about supporting the vulnerable – whether that's colleagues who are treated unfairly or the people who rely on the facilities and services we provide and bear the brunt of cuts and reduced services.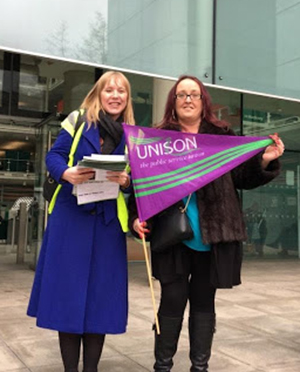 Do you think you can change services or the way things are done on your own? The services we work in and deliver only exist because of effective campaigning and people working together to create them. They won't get better, more effective or fairer without people working together, people just like you! If you value the people we serve, yours and your colleagues' rights at work and the services we work in, then joining a union is for you.
Hackney UNISON (Local Government Branch) is the largest Trade Union at the London Borough of Hackney, representing both manual, clerical and professional members across the Council.
We represent workers in schools and early years settings, and we also represent workers in the wider community, making sure private sector workers who help the council deliver their services are part of our collective bargaining unit.
You can find out more about our work by visiting our website at hackney.unison.site
You can also get more information about your rights of work by visiting Coronavirus: your rights at work
If you work in or for the public sector in Hackney, visit join UNISON now! It's never been more important to be part of a fighting trade union.
Hackney UNISON (Local Government Branch) would like to send a massive thank you to our members for always putting our community first, for stepping up when needed most, for standing by their colleagues, and for their continued solidarity with our fellow front line workers in health and beyond. THANK YOU!
We love you Homerton Hospital! Why? Beans On Toast – Homerton Hospital. Solidarity!