Hackney entrepreneur makes elite Forbes list after inventing 'truly flushable' wet wipes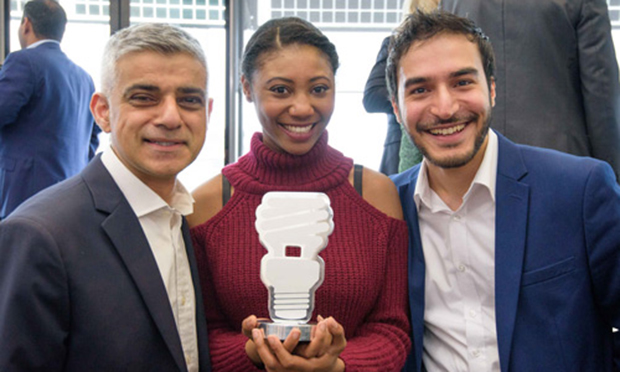 A local entrepreneur has been named in the highly regarded Forbes 30 Under 30 list after inventing a plastic-free wet wipe that disperses in water in just three hours.
Scientist Ellenor McIntosh, 26, co-founded Twipes – short for toilet wipes – in a bid to tackle the choking effect of traditional wet wipes on city sewers, and the damage they do to riverbeds and oceans.
Wet wipes contain plastic and take roughly 100 years to biodegrade, releasing harmful micro-plastics in the process.
Millions are spent removing 'fatbergs' – huge congealed masses of wet wipes, nappies, cooking oils, and more – from sewers each year.
While many wet wipe products are labelled 'flushable', McIntosh says this is often just marketing lingo.
"When brands say flushable, they mean it will make it down your pipes," she explains. "It says nothing about what happens next. They don't break apart and disperse like toilet tissue.
"Terms like vegan can be misleading too – plastic is vegan. That doesn't mean it's friendly to ocean and river life!"
Wet wipes are a single-use plastic but unlike plastic straws, they have not been banned in the UK.
McIntosh appreciates that consumers consider wet wipes a necessity.
"When it comes to baby care and personal hygiene, people aren't as willing to compromise. I realised that people would sooner change products than their habits," she says.
Using her degree in biomedical science, McIntosh invented Twipes, and after making them strong enough to use while also able to break down to their original matter within just three hours in water, she considers them "truly flushable".
Forbes appears to agree, listing her at number 18 in its 2019 30 Under 30 list.
Twipes is based in Hackney's Allia Future Business Centre, as part of the Future 20 incubator programme for 20 of the most innovative startups working to address pressing global and local challenges.
McIntosh is grateful for the space.
"The fact that Future 20 has provided a free working space for us has been incredibly valuable and helped us put our funding into other endeavours.
"On top of that, the contacts and opportunities it has given Twipes to find investors has been wonderful."
In 2017, McIntosh and her Twipes co-founder Alborz Bozorgi were given a Mayor of London Entrepreneur Award.
McIntosh has also been honoured at the Black British Business Awards, won the 2017 UK Women's Startup Competition, and in 2019 received the Diana Award for her humanitarian work in the field of science.
With people becoming more environmentally conscious, she appreciates that demand will be high, which is why affordability has been an important part of her mission.
"I was delighted to win the Diana Award last year," she says. "A huge part of Diana's legacy has been reaching out to people of all backgrounds, breaking through the barriers of class and touching the hearts of many.
"I think if she were here today she would agree, to be environmentally conscious, that shouldn't be a luxury – it's a necessity."
Twipes will soon be launching a subscription service that is delivered by eco-courier straight to your door.
One pack of 100 wipes cost £3.99, but buying in bulk is better value, with a ten-pack purchase equating to £2.50 per pack.
McIntosh is aware that this could come at no better time.
"In this current climate – no pun intended – people's focus is more concerned about their health and preparing for isolation.
"For us, this subscription can be a way of helping people make sure they're stocked up on basics without having to venture out, but nudging them to opt for a brand that's kinder to their pipes and planet."
For more information, head to twipes.eu