Un Deux Trois, Juniore, album review: 'Catchy avant-pop perfection'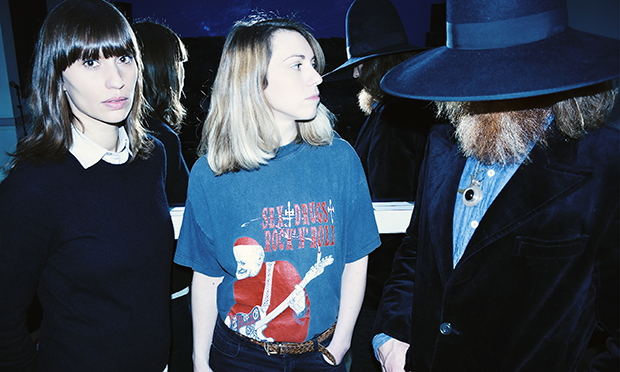 Juniore's UK breakthrough with 2017's Ouh La La could be considered a surprise given that it was sung entirely in the band's native French.
But after being sucked in by the infectious riffs on new album Un, Deux, Trois, the language barrier only adds to the trio's mystery and intrigue.

Arabic influences, Wild West whistles and electronic sounds are added to the group's signature melting pot of ye-ye, garage, surf and pop, whilst being held together by a distinct French cool.

Un, Deux, Trois takes on a slightly more laid-back tone than its more frantic predecessor. The bouncing riffs remain, although the fuzz guitar punctuates rather than drives the songs.

The repetitive metallic beat of opener 'Soudain' and sitar-like riff of the instrumental 'Walili' see the band expanding their sound, but there is also plenty for those besotted with Juniore's catchy avant-pop perfection.

The trance-like 'Bizarre' sees lead singer Anna-Jean Le Clezio hypnotically chanting 'Bizarre, bizarre' over spiraling house of mirrors-style organs.

Lead single, 'Ah Bah D'Accord', sees the return of the pulsating melodies of the band's debut, with catchy lyrics helping to make the group's music so addictive, even to non-French speakers.

Another key part of the band's allure is their heavenly reverb-soaked backing vocals, best represented in the sha-la-la-las ' of 'Adolescent' and the ooh-aahs of 'En Solitaire'.

While the group's 60s-inspired roots remain prominent, Juniore have always had a more contemporary feel than their psychedelic peers, perhaps down to the way they take so many styles and make them their own.

Un, Deux, Trois is their best effort yet, expanding their musical reach and leaving listeners licking their lips at what is still to come.
For more, check out our review of Juniore's gig at The Victoria pub back in 2018, or head over to the band's Facebook page