Coronavirus: Housing minister urged to ban non-payment of rent as basis for eviction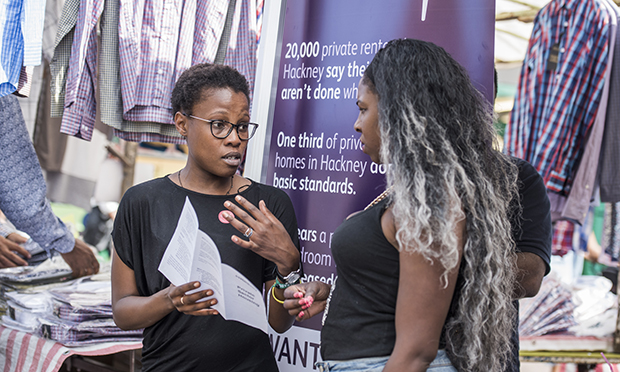 The Hackney councillor with responsibility for private renting and housing affordability is calling for a ban on non-payment of rent due to the coronavirus as a basis for eviction.
With entire moratoriums on evictions are increasingly being seen in the USA, Cllr Sem Moema called for greater protections for private renters across the UK affected by the outbreak in a letter to Minister for Housing Christopher Pincher.
Around a third of Hackney's residents are private renters, with the council saying in 2017 that evicted tenants from the private sector was that number one reason people approached the Town Hall for help having been made homeless.
Cllr Moema said: "It is clear already that many renters' incomes will be significantly affected, whether because of sickness, self-isolation or the wider economic impact caused by the outbreak.
"Even where people are entitled to sick pay or Universal Credit, this will be insufficient to cover rent levels for the vast majority of renters in a borough where Local Housing Allowance has not kept pace with rent levels, and where a two bedroom home costs more than £1,800 a month on average to rent.
"We welcome the support outlined by the Chancellor yesterday; measures outlined to support landlords and owner-occupiers were a welcome approach to minimising financial hardship for those sectors and I would hope the government seeks to do the same for the one-third of households in Hackney who rent their homes privately.
"While the security of so many renters across the country remains unclear, I strongly encourage you to put measures in place to ban non-payment of rent due to coronavirus being used as a basis for eviction."
The mayoral housing adviser went on to warn that those most likely to see their jobs at risk, such as freelancers, hospitality or gig-economy workers, and those employed in the cleaning, security and care sectors, are more likely to be renters.
While the Town Hall says that it is supporting its own tenants to ensure they receive financial help, Cllr Moema says that its ability to help private renters is "limited", adding: "It is clear that private renters whose incomes are affected by coronavirus should not be put in the position of choosing face eviction and homelessness if they rightly follow public health advice or suffer changes to their employment/income as a result of the virus."
Under current law relating to evictions, tenants do have defences against possession claims by landlords, even under so-called 'no fault' evictions, if they are mentally or physically disabled.
An additional burden can be placed on landlords to prove evictions are "proportionate" in these cases, according to the National Residential Landlords Association.
Christopher Pincher MP's office was approached for comment.