Nominate your unsung heroes for the Mayor's Civic Awards 2020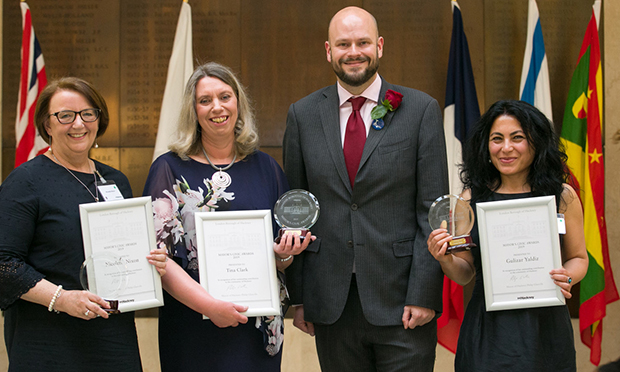 Nominations are open for the fifth annual Mayor's Civic Awards, and residents are encouraged to put forward the unsung heroes in their communities for recognition.
Borough leader Philip Glanville is on the lookout for people who go above and beyond the call of duty to make Hackney a better place to live.
If you know, for example, someone who has overcome an extraordinary difficulty, an inspirational teacher or carer, a person who has shown immense courage, a tireless fundraiser or volunteer, let the council know.
Last year's winners were youth club founder and residents' group chair Nicolette Nixon, Pembury Estate lynchpin Tina Clark and Gulizar Yaldiz, a volunteer who supports the local Kurdish and Turkish communities.
Mayor Glanville said: "Hackney is a brilliant and inviting place thanks to the hard work of those who go the extra mile for their communities.
"I'm pleased to announce the nominations for the Hackney Civic Awards are open again, previous winners and nominees have been incredibly inspiring and have given us a chance to give proper recognition to some of those unsung heroes working in our communities.
"I would encourage residents to put in nominations and help us celebrate the best of our borough."
Nominees for the civic awards can be of any age and from any background, but if you are nominating someone who is under the age of 18, make sure you have a parent's or guardian's permission.
All submissions will be considered by a panel of judges, and the winners will be announced at the council's AGM on 20 May, where they will receive trophies and certificates.
Nominations close on Tuesday 7 April.
To nominate someone online, fill out the form at hackney.gov.uk/civic-awards
You can also pick up the form at Hackney Town Hall and libraries across the borough and post it to: Maariyah Pathan, Hackney Town Hall, Mare Street, E8 1EA.