Former refuge for colonial ayahs in Hackney shortlisted for blue plaque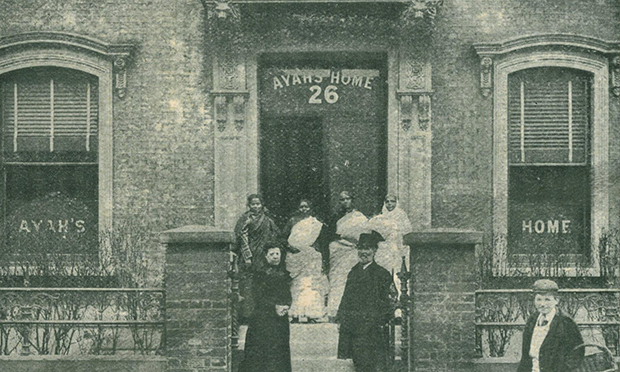 A former shelter in Hackney for Indian nannies, known as ayahs, who were brought to Britain by colonist families in the 19th and early 20th centuries before being abandoned and left destitute, is under consideration for a blue plaque.
The Ayahs' Home on King Edward's Road, close to Victoria Park, has been shortlisted by English Heritage following an application by local campaigner Farhanah Mamoojee.
The little known history of the ayahs is also the subject of a series of events at Hackney Museum tomorrow, organised to coincide with International Women's weekend.
Ayahs were hired by British families living in colonial India, but following the major mutiny in 1857, many were brought back to the UK, some with their employers and others to meet a demand in this country for their skills.
However, with no formal contract to protect them, they were often let go on a whim by their employers and left to fend for themselves, destitute and without a roof over their head.
Philanthropists stepped in to create a sanctuary for these women in Aldgate, called the Ayahs' Home.
A patchy history points to the refuge being founded in either 1825 or in 1891, before being closed due to administrative inadequacies.
The shelter reopened on King Edward's Road, following a campaign by women at the London City Mission, and later moved into a larger property on the same street.
Mamoojee has played a vital role in bringing this part of Hackney's history to light, and the Sotheby's auction house worker has collaborated with Hackney Museum and poetry group the Yoniverse Collective to put on free performances and an exhibition.
Events begin at 11am tomorrow at Hackney Museum, 1 Reading Lane, E8 1GQ. Tickets have all been snapped up but there are still standing-room-only places available – just turn up at the museum in time for the start.
The borough's arts and culture chief, Cllr Guy Nicholson, said: "Knowing the Ayahs' Home found its place in Hackney is a fine example of our borough's reputation for providing a welcoming and safe refuge for people from all over the world and its tradition for championing equalities and women's rights.
"Farhanah Mamoojee, Hackney Museum and the Yoniverse Collective are all to be congratulated for presenting the story of the Ayahs' Home in such an eloquent way, both within the museum and complemented by Farhanah's campaign for a blue plaque on the house on King Edward's Road."
For more information about tomorrow's events, head to the Eventbrite page
You can also follow the Ayahs' Home Project on Instagram