Unions celebrate as 'special measures' announced for hospital cleaners' pay over coronavirus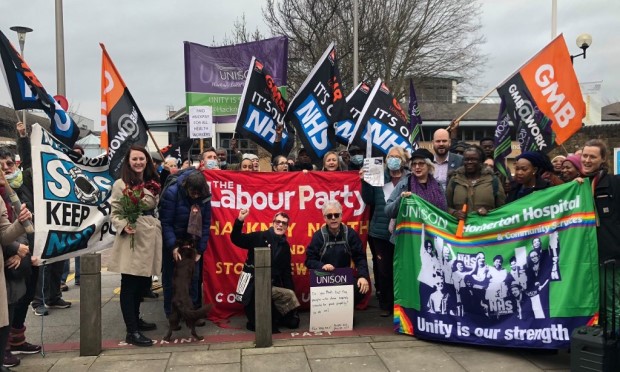 Trade unions are celebrating today as facilities giant ISS announced "special measures" for its employees' pay in response to mounting concern over the coronavirus outbreak.
An open letter signed by unions GMB and Unison, as well as Hackney North MP Diane Abbott and Hackney Mayor Philip Glanville, had called for answers on whether ISS employees, if they were forced to self-isolate or had contracted the virus, would do so under current pay conditions.
The pay deals of hospital cleaners, as well as those who serve food and transport patients and equipment, have been the subject of national attention for months, with politicians and campaigners calling for services to be brought in-house at the Homerton.
It emerged towards the end of last year that workers are denied sick pay for the first three days of illness and receive £94.25 after that, forcing many to go into work while ill.
The letter reads: "Low-paid workers currently face a terrible dilemma: attend work when ill, with obvious implications for patient safety, or face acute hardship.
"This situation has arisen as a direct result of the privatisation of ancillary services at the hospital.
"The likes of ISS will invariably prioritise profit margins and shareholder dividends above employee welfare and standards of care.
"The risks posed by the spread of Covid-19 further bolster the case for bringing these services back in –house. We call on Trust management to transfer these workers to direct NHS employment when the current contract expires this autumn."
ISS has said that prior to the letter being written it had "already made the distinction between routine sickness and the current fears around the Covid-19 outbreak".
A spokesperson for the company said: "It is not every day that we deal with a situation such as the Coronavirus outbreak and we understand that this can make things difficult to assess and understand.
"We have therefore clarified our position in relation to self-isolation, and when it is appropriate.
"If an employee is not sick but cannot work because they're in self-isolation or quarantine, there is no legal statutory right to (sick) pay.
"We recognise however that self-isolation is the most effective way of preventing the coronavirus from spreading.
"Currently in the UK, self-isolation is relevant to several groups of people, and ISS is aligned to the government guidelines."
Employees for the company will now receive their usual pay while self-isolating:
if they are able to provide reasonable evidence for the reason that they are self-isolating and are unable to work (for example, travel documents.)
if they are not sick but they are advised by management not to come to work.
if they come to work with coronavirus, or become unwell in the workplace and have recently come back from an area affected by coronavirus, and are advised by management to go home and self-isolate.
Employees reporting sick but not meeting these criteria will receive the same pay arrangements around sickness as they currently do.
Lola McEvoy, GMB organiser, said: "Full pay from day one for NHS contract workers is an urgent priority for public safety given the escalating Coronavirus crisis.
"This announcement that ISS will give full pay to everyone required to self-isolate is the direct result of GMB members' bravery in campaigning at Homerton Hospital and across the UK.
"This is an admission of the failures of statutory sick pay and increases the pressure on Government to now follow ISS' lead and ensure no worker is forced to make the choice between public safety and paying their rent."
It is understood that the Homerton itself was seeking clarity from ISS on whether pay arrangements for its workers would be the same as those at the NHS.
A Homerton spokesperson said: "The letter does indeed raise urgent and important matters in the context of Covid-19. We too are seeking clarification from ISS and have informed union reps of our actions."
The hospital has outsourced cleaning services for 15 years, with the contract with ISS up for renewal later this year, though campaigners are maintaining calls to bring services inhouse to end the situation of a "two-tier workforce".
Cllr Yvonne Maxwell, (Lab, Hoxton West), mayoral advisor for older people and a governor at the Homerton, said: "Welcome as it is that ISS have stated that the outsourced workers will be paid if they need to self isolate due to coronavirus, this does highlight the serious issues of having some workers at the Homerton who do not have the same terms and conditions as NHS staff.
"We do not expect doctors, nurses, senior managers to go three days without pay and then get just £90 a week, yet we expect the lowest paid to do so.
"There are many other contagious illnesses that could impact seriously on patients with reduced immune systems and serious conditions. Coronavirus has highlighted the risks to patients when staff can not afford to be sick . It highlights the need for all staff to be insourced."
EDIT: This article was updated at 17:49 on 12/06/2020. The original article had as its featured image a photograph of protests at the Homerton over the Christmas period. Having been alerted to the fact that an offensive antisemitic image is visible on a banner in the photograph, we have removed the image from this and all other stories. We would like to apologise unreservedly for republishing the imagery, and for any offence caused by its publication.