Over 180 electric vehicle charging points to arrive in Hackney this year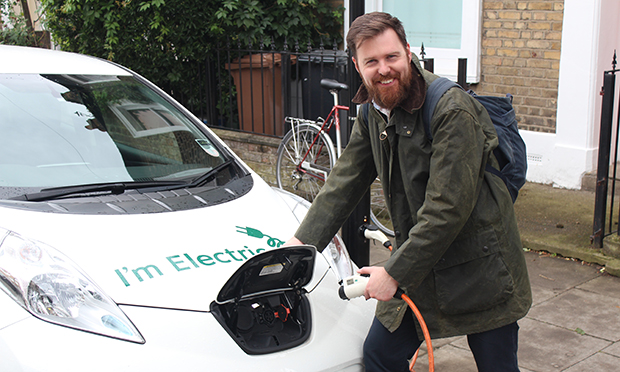 A further 182 electric vehicle charging points are to be erected in Hackney this year as the council continues its drive to put one on every residential street by 2022.
The Town Hall has also launched a feasibility study into the rapid expansion of charging infrastructure in the borough. 
Two thirds of the new points will be installed on lampposts, with dedicated charging bays created on the road, to make use of the existing power supply.
The council will need to introduce roughly 2,000 chargers to have one on every street and fulfil its pledge for no home to be more than 500 metres from one.
The new additions will bring the total number of chargers in the borough to 298. 
Transport and environment boss Cllr Jon Burke said that while the council is "working to reduce" the number of cars in the borough, the expansion of the charging network and measures such as emissions-based parking will "help ensure that the remaining motor vehicles are increasingly zero emissions".
He added: "This will eliminate carbon dioxide emissions at the tailpipe and significantly reduce the toxic particulate matter that motor vehicles produce."
Residents and businesses are being asked to suggest locations for the charging points that will best support people to switch to electric vehicles. 
The council is commissioning a study that will investigate the feasibility of delivering lamp column charge points on all of the borough's residential roads, as part of a broader programme to drastically reduce motor vehicle pollution without increasing car ownership overall.
Part of it will explore how the Town Hall's new publicly-owned energy company Hackney Light and Power could be used to supply the new chargers. 
Funding for the incoming lamppost chargers comes from the Department for Transport's Go Ultra Low City Scheme, and is being matched by the council.
The roll-out of the scheme across the capital is a joint initiative between Transport for London, the Greater London Authority and London Councils.
Cllr Julian Bell, chair of London Councils' transport and environment committee, said: "It's fantastic to see this electric vehicle charging point boost. 
"London's air pollution is a public health emergency. Boroughs are determined to keep investing in electric vehicle charging infrastructure because this will encourage Londoners to switch to cleaner, greener vehicles and help to reduce harmful emissions."
Residents who want to suggest locations for the new lamppost chargers should contact movegreener@hackney.gov.uk