'A great loss for Hackney people': Health bosses challenged over St Leonard's redevelopment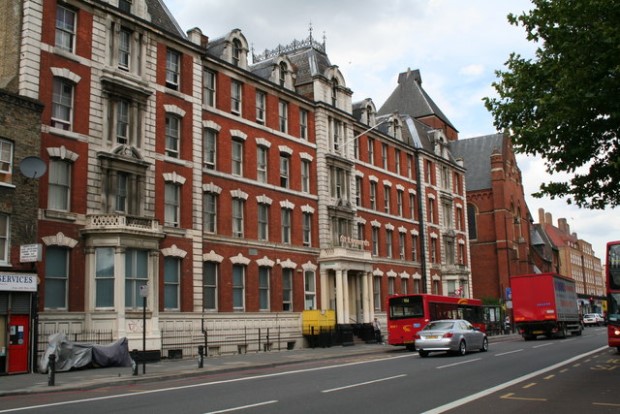 Health bosses have been challenged by a local watchdog organisation over the direction of plans to redevelop St Leonard's Hospital.
Healthwatch Hackney spoke out this week in "concern" at the potential future of the Kingsland Road building in an open letter to David Maher, managing director of City & Hackney clinical commissioning group (CCG).
Rupert Tyson, chair of the watchdog, wrote to Maher on 17 February to gain a "better understanding" of the CCG's plans for the site amid his fear that they point towards the building being used "almost exclusively for housing".
Tyson wrote: "We would consider [this] a great loss for Hackney people.
"We believe the redevelopment of this site offers significant opportunities to create services that meet local need and bring these services closer to where people live.
"We call on [David Maher] to make a clear public commitment that local commissioners and providers will work with Healthwatch and local communities, to secure St Leonard's as a site that continues to offer a wide range of high quality health and care services, and the flexibility to develop badly needed local services that include intermediate and dementia care."
Tyson pointed to the recent debate over the move of beds for dementia patients out of Hackney, first to Mile End and now to a dedicated ward at East Ham, as well as the move to Paddington of the provision at Median Road of 'intermediate care' beds, which aims to avoid unneccessary hospital care for older people.
Hackney Keep Our NHS Public have been calling in recent months for the St Leonard's building to be used to provide dementia beds locally, with councillors still divided over plans to move those in need out to East Ham.
While the CCG claims that "no decisions have been made" on what the St Leonard's building will be used for, the East London Foundation Trust (ELFT) appeared to dismiss the idea of moving dementia beds there, claiming that the building had neither "sufficient scope or capacity" to provide the service.
NHS Property Services currently charges the CCG an estimated £1m per year for void and unused spaces in the building.
Speaking in November last year, Jon Williams, executive director of Healthwatch Hackney, said: "Redevelopment of St Leonard's is an ideal opportunity to bring dementia care beds for older people closer home. We know families would very much appreciate having local beds.
"It would be ideal if they could also provide some intermediate beds for older people, replacing those lost when Median Road care unit closed.
"Families often tell us how upsetting it is when elderly parents with high care needs have to be moved out of Hackney to get the support they need."
David Maher said: "St Leonards is – and will continue to be – an important part of our healthcare infrastructure, and we are committed to maximising its use for the benefit of local people.
"We are in the very early stages of thinking about how we can best use the site. This includes considering the services needed locally, and we will involve residents and health partners as we develop our ideas."