Public realm boss to 'completely reimagine' Hackney's streets to fight climate crisis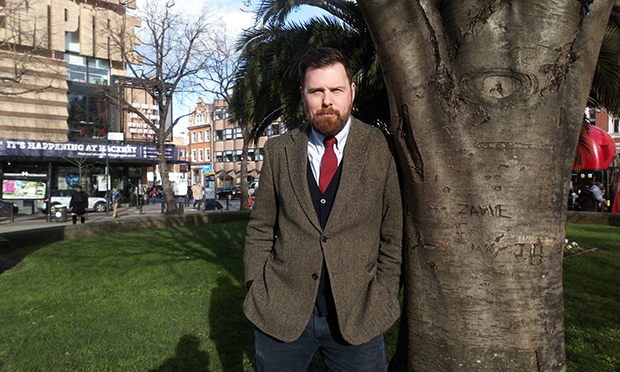 The Town Hall's public realm boss has promised a "complete reimagination" of Hackney's streets as the council attempts to combat the climate emergency and address urban air quality.
Cllr Jon Burke (Lab, Woodberry Down) announced last week that Dalston's Colvestone Crescent would be the first highway to become the borough's first '21st Century Street'.
Workshops are to take place with residents to create a large green space, alongside many more trees and infrastructure for bikes and electric vehicles.
Cllr Burke has pledged that the council's work on these measures will extend to radically change both Dalston and Hackney as a whole.
He said: "I'm confident that, when we deliver that street, based on principles underpinned both by climate science and the latest science on cooling cities, and mitigating against urban heat island effect, we'll struggle to cope with the demand from other streets in the borough who will want to do this.
"Who wouldn't want to live on a street like this?
"We're coming good on our commitment to reprioritise road space away from cars and towards other modes of active travel. There are now 80 fewer parking spaces in this borough [as a result of the roll-out of the dockless bike bays].
"We will completely reimagine what we believe a street will need to look like in the coming decades to ensure that we are increasingly resilient to the obvious effects of human-influenced global warming."
The councillor promise to roll out further green measures across Dalston over the next decade, including depaving, more tree-planting on Ridley Road and Hackney's first Low Plastic Zone, to which 26 of the area's businesses have now signed up.
Alex Armitage of the Green Party, while welcoming the changes, has suggested that councillors are motivated by pressure from the ballot box in putting in the changes – Armitage himself came within 21 votes of being elected as a councillor in Dalston in 2019.
Armitage said: "This demonstrates the power of voting Green. Labour are worried about losing councillors to the Greens in Dalston, so the council chooses to take measures to civilise Dalston's streets.
"This much-needed intervention is an example of democracy in action. We will be campaigning for similar measures to be rolled out not just in Dalston but across Hackney."
The Greens' claims of electioneering by Labour were strongly refuted by Cllr Burke, who stressed he is motivated by the "huge enthusiasm" from Colvestone residents for change, as well as poor air quality near Colvestone Primary School, "hostile" driving on the street, and a deficiency of green space in Dalston.
Cllr Burke responded: "The idea that I would select Dalston based on those kind of short-term political goals I think is contradicted by everything I do in my career. I think it would be fair to say I don't go out of my way to be a laid-back people-pleaser.
"I think that's demonstrated through [my position on] the Silvertown Tunnel, through having arguments with people who have a vested interest in keeping society and our streets the same way they are now.
"If I didn't think it was the right location, I wouldn't be delivering it."
Residents expressed excitement at the news, with local campaigners writing last week: "Have you heard the news? Change is afoot for Colvestone Crescent and the wider community."
The transport and public realm chief emphasised that the Town Hall would seek to avoid "an uneven distribution of public goods" by only co-producing future schemes with the "noisiest" residents.
According to Burke, residents who "still think they need to own a car" will be aided by the council into managing a transition to electric vehicles, through the placement of charging points on the street and the increase of cycling infrastructure.
The target for the amount of trees on the street has also been set at 40 per cent of canopy cover, part of public health infrastructure that it is hoped will reduce hospital admissions and peak demand for electricity.
Burke said: "The overwhelming majority of the public carriageway is currently dedicated to cars, and we've got to rebalance that.
"People will be able to spend more time shooting the breeze, meeting their neighbours and playing with their kids."
EDIT: This article was updated at 13:35 on Monday 24th February.