Pophams, London Fields, food review: 'Style backed up by substance'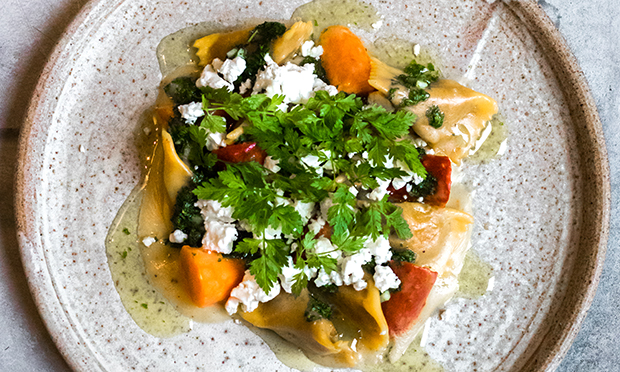 Pophams is a tonic of a restaurant – old school, knowledgeable service alongside food so subtle and inventive that I am contemplating selling my shoe collection to fund a new life as a foodie.
My friend and I wandered over to London Fields after two extremely busy weeks filled with bad news and family drama.
All we wanted was wine, carbs and somewhere chilled to debrief.
Pophams, an artisan bakery that serves up pasta dishes in the evenings from Tuesday to Saturday, provided all that and more.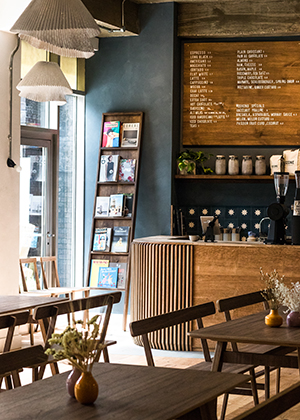 It's no exaggeration to say that its golden ambience and inspired food combinations – the celeriac carpaccio with pear, walnut and cheese rocked. my. world – worked a restorative magic on the both of us.
Firstly, the staff know their stuff. We didn't know what most of the words on the menu meant – malloreddus anyone? – and, while we both love it, we are ignorant about wine.
So we put ourselves in their capable hands and asked for the most 'Pophams' selection they could provide.
If you go, I'd advise you to do the same; the menu is one of those shifting, seasonal ones that requires insider knowledge.
We started with an alarmingly drinkable red, served in a chic carafe – I'm a sucker for a carafe.
Normally, I only notice good wine when it's absent, but this one was pure joy, blending with the golden lighting to create a spreading feeling of Mediterranean wellbeing – all without the acid kick of my usual supermarket bottle.
Then on to the starters – the aforementioned carpaccio arrived alongside the signature sourdough-with-balsamic-butter.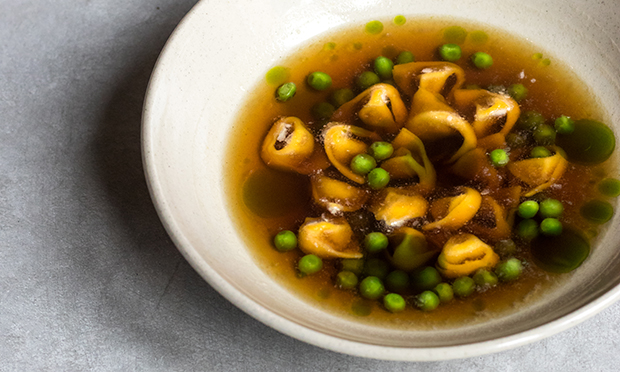 Pophams came onto my radar as a culty bakery in Islington. People would get there at 8am on a Saturday just to guarantee themselves a cheese and ham croissant, and you can see why. They know their bread. The sourdough is memorable.
Predictably, so is the pasta. It could not be further from a stodgy carbonara at a chain Italian.
We ate oxtail ravioli with beetroot, pumpkin and sage casonsei and taleggio cappelletti with macerated grapes.
In layman's terms, that's three lots of filled pasta – beef, pumpkin and cheese. And – no word of a lie – we ate it in reverent silence.
Who knew that the combination of cheese, grape puree and hazelnut could be so comfortingly, zingily indulgent? Or that oxtail, bone marrow, beetroot and horseradish could be so utterly rich and devastating? It made me want to learn about gourmet food.
We finished with the croissant sticky toffee pudding – Pophams' famous croissant dough wound around a sticky toffee pudding base to make a rich, datey hybrid in the shape of a cinnamon bun.
It was topped with a slightly lighter version of the traditional sauce and a dollop of crème fraiche to undercut the sweetness. It was nothing short of miraculous.
From here on in, I will be celebrating all achievements and softening all disappointments with this pudding.
Pophams has style – it's all blonde wood and warm minimalism – but this style is roundly backed up by three courses of thought-out, creative substance.