'Many mornings I'd wake up next to a corpse': Survivor tells moving story to mark Holocaust Memorial Day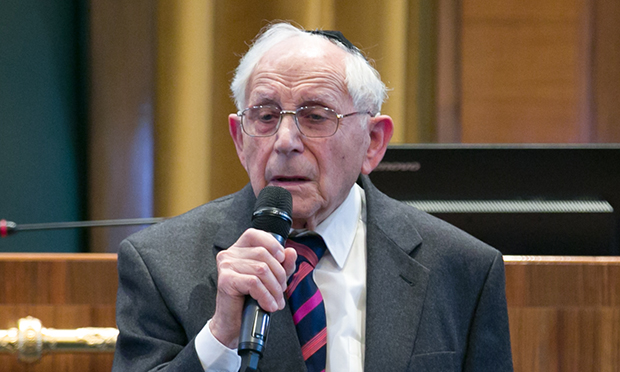 Around 100 people gathered at the Town Hall on Monday for the council's Holocaust Memorial Day ceremony.
Local politicians, dignitaries, members of the public and schoolchildren attended the event, which this year had the theme of 'Stand Together'.
They heard 92-year-old survivor Harry Olmer, a Polish Jew, tell his heart-wrenching story.
Following the German invasion of Poland that marked the start of the Second World War, Harry, his five siblings and the rest of his family fled to his grandmother's village of Miechów-Charsznica. 
In 1942, the Nazis arrived, rounded up all the Jews in the area, and sent them either to be killed or to work in forced labour camps.
Harry, along with his father and brother, were taken to Skarżysko-Kamienna, where tens of thousands of Polish Jews were made to work in a dangerous chemical factory.
Harry told the crowd: "The conditions were horrible. It is hard to find the words to describe the rancid smell, the cursing, the crying.
"There were many mornings when I would wake up next to a corpse, as men tragically died during the night."
Against all odds, Harry survived, and was finally freed by the Russian army in 1945.
He said: "I was almost dead – barely breathing and unconscious for long periods – but they found me and I was liberated. I had survived but many had not."
Around six million Jews, including members of Harry's family, were systematically murdered by the Nazis and their collaborators.
Following the war, Harry came to the UK with 300 young holocaust survivors, known as 'The Boys'.
They were moved to Glasgow and later to Windermere in the Lake District, which Harry describes as heaven.
In 1950, he became a British citizen, and went on to serve in the army as a dentist. He also got married and had four children and eight grandchildren.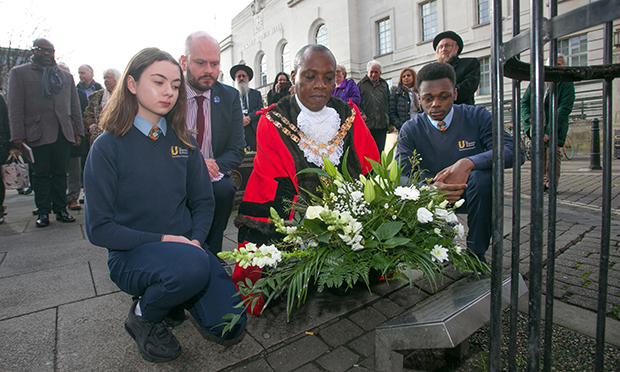 In keeping with the 'Stand Together' theme, the Memorial Day ceremony included a joint song from pupils at Simon Marks Jewish Primary and The Olive School, a Muslim faith school.
Mayor Philip Glanville, along with members of the council, students, and community leaders, read out a statement of commitment against all forms of discrimination.
Hackney Speaker Cllr Kam Adams said: "I feel honoured and humbled to be part of this year's Holocaust Memorial Day commemoration service.
"It is important that we look back and remember all those who have suffered, that we learn the lessons from the past and work even harder to make sure that they never happen again.
"This year's theme, 'Stand Together', prompts us to think about how we can all work together to build a cohesive and kind community where people can respect and love one another despite their differences."
Following the service, Mayor Glanville, Speaker Adams and schoolchildren placed a floral tribute under Hackney's Holocaust Memorial tree in the Town Hall square.