'Be the difference' – New Year New You!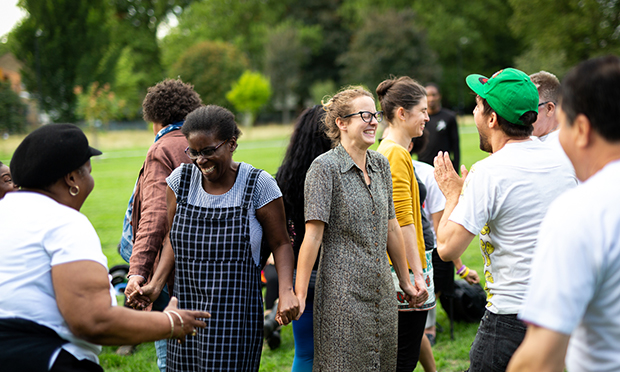 Volunteer Centre Hackney (VCH) in partnership with Hackney Council have launched a campaign to promote volunteering across the borough encouraging residents to 'be the difference' in their communities.
For over 20 years Volunteer Centre Hackney has enabled over 14,000 people from all backgrounds to share their skills, knowledge and experience with their community. VCH supports residents to explore how they can give their time to causes that matter to them, whilst supporting over 400 local not-for-profit groups to successfully host volunteers.
Volunteering is a great way to build skills, increase confidence and self-esteem, making new local connections and for your wellbeing. Whether you have an hour a week or an hour a month, there are hundreds of ways for you to get involved in your community.
Former VCH volunteer, Victoria, said: "I encourage people to volunteer because it changed my life – this really isn't an overstatement."
VCH runs volunteer fairs every three months, with the next fair set to take place on Thursday 30 January from 5 – 7pm at Hackney Museum, Ground Floor Technology & Learning Centre 1 Reading Lane, E8 1GQ.
The fair is free and open to everyone, children are welcome and free refreshments too!
Showcasing an array of inspiring organisations, it's a fantastic opportunity to speak directly to some of Hackney's diverse charities and find out what's on offer. Organisations that will be present at the fair include Hackney Museum, Crisis, Blind Aid, FoodDrop, Groundwork, Social Action for Health, Headway East London, City Year, Beecholme Community Garden amongst many more. The attending organisations will be offering a wide range of roles, including mentoring, retail, befriending, gardening and administration.
Portuia, who also found a volunteer role through VCH said, that the fair "is a great way to speak to organisations directly, and get a feel of what's involved".
VCH also runs bespoke projects including support for people with mental health needs, befriending and resident social action projects.
To find out more about volunteering and how to get involved, register online at vchackney.org or call us on 020 7241 4443 and come in to meet one of our friendly advisors. You could also drop us an email at info@vchackney.org or you can follow us on Twitter: @VCHackney, Facebook: Volunteer Centre Hackney
For more info, click here