Debate rages over 'giant glowing orb' in Stratford as campaigners warn of 'class-cleansing'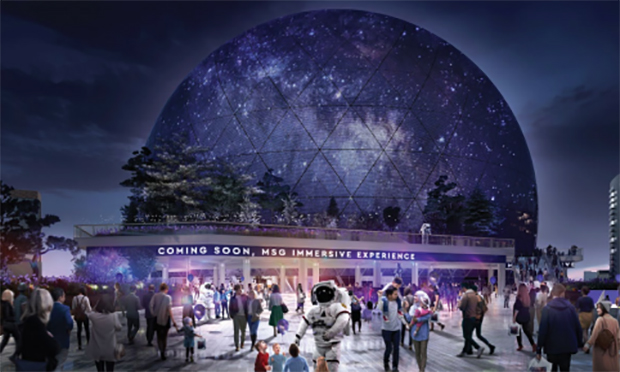 Stratford residents are warning that the planned construction of the MSG Sphere could impact east London for generations to come.
The Sphere, which would hold over 21,000 people, is planned by the Madison Square Garden Company (MSG) to be the largest concert venue in the country, and in daylight hours will beam out adverts from the LEDs that make up its surface.
However, an impassioned consultation meeting at a packed community centre last week saw locals voice a range of concerns, from noise and light pollution to the transport and environmental impact and more.
The Newham branch of Extinction Rebellion (XR) bluntly threatened that if the scheme is approved: "We will disrupt."
Local resident and Labour activist Trish O'Hara said: "This isn't about the local community, but the new one they're bringing in – the wealthy. This is for the Singapore Sling-Stratford. There is a local community in east London, and they are being class-cleansed. I hate everything about this, as it personifies that."
"The environment is my first concern. If Sadiq Khan is serious in any way about London's environment, then he needs to be making a comment. We have no time left, so all of us should be thinking about that.
"My next concern is that I use Stratford station. It's an impossible station already, and tens of thousands more people will pile in. It's been explained how another entrance will be opened, but not how they're dealing with the weight going in and out of the trains, which is already, I think, at dangerous levels.
"I also don't want MSG advertising in the community. I don't think they'll be attractive, and there'll be light pollution for locals. Adverts are already quite dominant in our culture, so do we really need something spinning around, of an enormous size, advertising to us?"
The meeting, held by the London Legacy Development Corporation (LLDC), which is the planning authority for the scheme, saw chants of 'Stop the MSG', and ended in loud demands for more technical information, though LLDC has made it clear it is unlikely that another meeting, with technical experts able to describe the impact of the Sphere, will occur.
Campaign group Stop MSG Sphere London are continuing to demand the proposal for the arena be rejected out of hand, dismissing measures put in place by MSG such as imposing a midnight curfew on evening shows at the arena.
The group pointed out that a smaller music venue of 1,500 people will still open until 4am, and another 1,000-capacity members' lounge until 3am.
Not every local in attendance was opposed to the project, though an area of agreement between those supporting and those condemning were fears over the impact on numbers at Stratford station, with both Network Rail and Transport for London still to respond to their assessment.
One resident, a musician who has lived Stratford for three years who did not want to be named, said: "I think particularly being a young person, I'm really excited about how culturally significant Stratford is becoming in the context of London and globally.
"We hosted the Olympics, we have one of the biggest shopping centres in Europe. This will help regenerate the area and help draw interest to the area which I think will be beneficial for the residents.
"I wish it was not specifically by the station, as my biggest concern is the footfall with the station. I would want it nearer Pudding Mill Station. I can see the concerns, as if we lived right near it, it might not be as fun."
Maryland residents warned that currently a boundary had been set, meaning Uber drivers would not be able to make pick-ups from Westfield or Stratford Centre, raising fears that the cars could be displaced onto nearby estates.
Other locals voiced fears about potential light pollution from the sphere, which will be turned on in the summer months from 6am, with a curfew at 11pm, remaining on standby mode outside of those times.
For half of that time, the sphere would be displaying advertising, with one of the conditions being it display a single advert, rather than a mosaic of multiple images.
A health worker addressing the meeting said: "I get that the auditorium will not have overnight events but some of us work night shifts.
"I work in a hospital, and live in the tower right next door. It's a bit of a farce to assume that everyone is going to be working 9 to 5 and will fit in perfectly with the schedule of shutting down the noisy events. It's going to be a massive nuisance.
"This is not a normal building. It's a giant glowing orb. It's not a normal planning application, but it's something that doesn't exist in London. There's one in Vegas, and I don't think anyone here wants to live in Vegas.
"How is it that planning rules are being applied to something that doesn't exist yet? You can't use standard building rules for that, because it's not a standard building."
The LLDC have said that all planning decisions are made through a national planning and legal framework, with no other tools available to assess the unprecedented building.
Hackney Council opposed the plans in June, citing the "visual prominence" of the Sphere from Hackney Marshes and the River Lea.
Planning officers say they are now looking at how MSG will reduce the impact of the scheme, with LLDC appointing a consultant to look into what impact the Sphere will have as a distraction to road users.
The public consultation is set to run until 31 January, though some in Extinction Rebellion (XR) are threatening to use other non-bureaucratic means to oppose MSG's plans, a promise which gained widespread applause from residents listening at the meeting.
A representative of Newham XR said: "How is the LLDC advising MSG in regard to climate change? I'm assuming everyone is aware that we are on a flood plain, with projections putting this scheme underwater.
"It is not business as usual. XR regards these projects as fantasies. They are not real anymore. We will make all the objections and use all the forms, but of course our main strategy is that we will disrupt."
Jayne McGivern, MSG's executive vice president for development and construction said: "Our updated plans for MSG Sphere provide more detail about our proposal to create a state-of-the-art entertainment venue, which will bring ground-breaking events, millions of pounds of investment to Newham and thousands of jobs to East London and the UK.
"Throughout the entire planning process we have been listening to and acting on feedback from the LLDC and the community in East London.
"As a result we've seen overwhelming support for MSG Sphere — a commissioned opinion poll of Newham residents demonstrated 85% of adults supported and only 4% opposed." 
EDIT – This article was updated at 11:55 on Friday 17 January to include a statement from MSG.