Local playwright's first film to show in Berlin after London Lift-Off triumph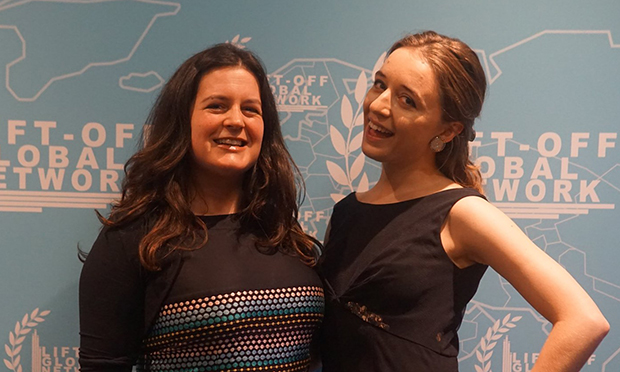 A Hackney-based playwright's first ever film is to be screened in her home country of Germany after it won a Special Mention at the illustrious London Lift-Off Festival 2019.
Tamara von Werthern's short, I Don't Want To Set The World On Fire, is also up for Best Screenplay when Lift-Off's Season Awards are handed out in a ceremony at Pinewood Studios on 18 January.
Tamara, whose long-form plays have been performed at theatres such as the Arcola, told the Citizen: "I am absolutely delighted that the film has been chosen to be shown in Berlin.
"It means so much to me to see it in the country of my birth. It will be the first time that my writing for stage or screen will receive an outing in Germany."
The film was shown at Genesis Cinema in Whitechapel last month as part of the London leg of Lift-Off, a network of film festivals which every year screens new work in Berlin, Tokyo, New York, Paris and other cities around the world.
The dark comedy follows a couple as they plan to survive the impending end of society in the UK by waiting it out in their garden bunker.
It actually started life as a short play called Sharks are Terrorists, which was shortlisted for playwriting showcase Little Pieces of Gold in 2018.
Around that time, Tamara told a stranger at a get-together in Hackney how excited she was about the nomination, only to find out that she was talking to Emmy Award-winning film director Marcus Liversedge, who asked her to send him the script.
Tamara added: "He really liked it and said he thought it would make a good short film."
Production started just a week after the play had performed at Southwark Playhouse for Little Pieces of Gold, starring the same lead actors – Josephine Starte and Graham O'Mara – and directed by Anna Marsland.
Tamara is currently working on a new play, Puddles, which will see her reunite with Marsland. Handily, the pair have just become next door neighbours.
For more information on Lift-Off, including how to buy tickets for the Season Awards, head to liftoff.network