Bridport residents' troubles continue as balconies fenced off with wire mesh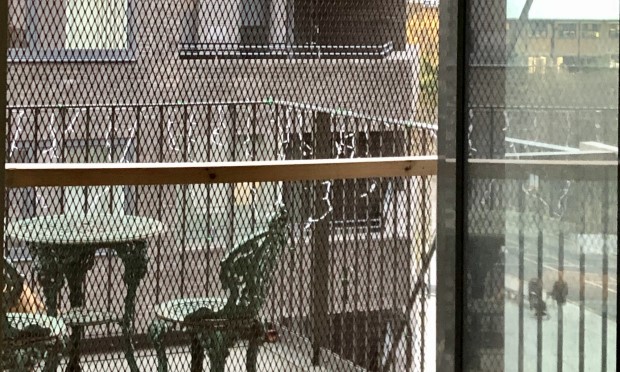 Residents of benighted council block Bridport House have had access to their balconies blocked off with wire mesh for their own protection by the Town Hall.
Bridport residents were given a year to find new homes in August of this year, after Hackney Council found in March that the award-winning block had a litany of errors in its construction by Wilmott Partnership Homes Ltd.
As well as combustible insulation specified by a Town Hall-appointed design team in 2010 that needs removing, residents have been kept off their balconies since March, after an underplate fell from one of them in February.
The Town Hall wired off the balconies at the front of the building altogether in November, after residents continued to use them against the council's advice.
Resident Michael Jones said: "We've been standing on these balconies for eight years, and there was the incident when the tray came out of one of them.
"There's now wire meshing in front of the balcony across the whole front elevation, so I can't go out my patio door. The back and the side haven't, they're all open. A couple of weeks ago we heard that they were going to be putting restricters on the balcony doors.
"We know that a tray fell away [from one of the balconies] on the back elevation, and when we had the scaffolding up, there was netting so that if something fell from the balcony, it wouldn't hit a member of the public.
"I can accept not going onto my balcony because the tray has dropped, but if anything fell off one of these balconies and it did go over, it would kill a pedestrian stonedead. Where's the protection for the public?"
The council now have a dedicated rehousing team working with all residents to arrange their move from the block, with a guarantee that no-one will be expected to move over the Christmas break.
The Town Hall said in August that it was "confident" that it can find new homes for all 41 Bridport families over the next year, after which a two year repair process will begin.
It is understood that the combustible decking of many of the balconies and terraces is warped as a result of incorrect installation, and will need to be replaced with a non-combustible product.
A tie rod to one balcony was also found to be "loose", and a Town Hall spokesperson has confirmed that legal action against WPH is "ongoing."
A new communal fire alarm system is now up and running in the building, though the Town Hall's acting group director for neighbourhoods and housing Ajman Ali has apologised for "teething problems" with the system, which resulted in false alarm callouts to the London Fire Brigade.
Hackney Mayor Philip Glanville (Lab & Co-op) said in August: "We are sorry for the failures in the construction of Bridport House, and for the huge disruption residents continue to face.
"Moving residents from homes we all hoped would be new and permanent is not an easy decision, but our first priority is their safety, and we have decided that at Bridport House, doing this work while the building remains occupied would create an unacceptable risk.
"We will do everything we can to ensure that this process is as smooth as possible, with a dedicated team and independent advice to support tenants into the best homes we have available and a package of compensation that recognises the immense upheaval to their family lives.
"We will be taking legal action to hold those responsible for these failures to account. We also should have done a better job.
"This was not an easy decision to make, but as we've demonstrated through our proactive work to remove cladding on other buildings, install thousands of new front doors and publish fire risk assessments online, we will never take any risks with fire safety."