UK first as Town Hall trials 'reverse vending machine' on Hoxton estate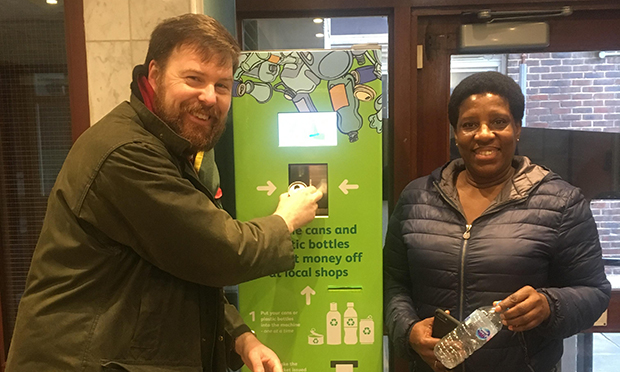 Hackney Council has become the first in the UK to install a 'reverse vending machine' on an estate as part of a trial which allows residents to exchange their recycling for vouchers.
The machine, located in Hoxton, encourages the estate's residents to recycle a variety of cans and plastic bottles.
The Town Hall will use the pilot to assess the potential for reverse vending to increase recycling on estates and to reduce the amount of black bag waste sent for incineration.
Residents who use the machine can claim money off at two nearby shops, supporting local businesses.
Cllr Jon Burke, cabinet member for energy, sustainability and community services: "While recycling is by no means the complete solution to our hugely wasteful system of consumption, it is far preferable to the alternative methods of disposal.
"By ensuring that recyclable materials are given an economic value, reverse vending has the potential to divert significant amounts of waste away from landfill and incineration, reduce virgin resource depletion, stimulate the circular economy, and materially benefit the public.
"While a small number of reverse vending trials have been undertaken by large supermarkets within their premises, we believe that estates and large apartment complexes have significant potential as reverse vending locations in an environment where people are increasingly conducting smaller food shopping trips and visiting supermarkets less frequently."
Jeannette White, treasurer of the estate's tenants and residents association, added: "It's a great idea and we'll all benefit from it, now and in the long run. It's helping the environment, protecting it."
The reverse vending machine accepts all cans and plastic bottles, including shampoo bottles and food cans.