Outrage at Town Hall as antisemitism claims follow Stamford Hill parking debate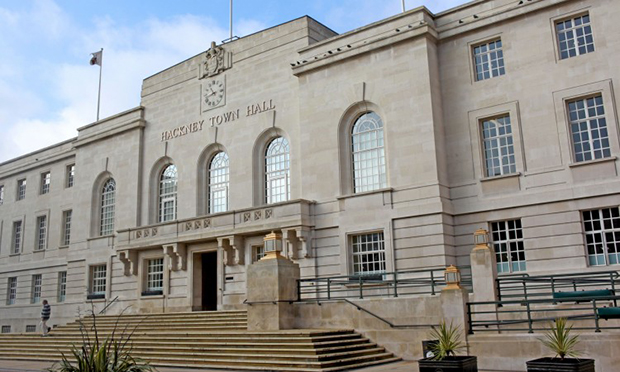 A debate over a cycle lane in Stamford Hill led to allegations of antisemitism being made by a Conservative councillor at the Town Hall last night, provoking outraged calls for his removal from the Labour benches.
Members of the Charedi Orthodox Jewish community were at a full council meeting to ask for the removal of a cycle lane on West Bank, claiming it prevents people from accessing shops on Dunsmure Road.
The deputation, led by former Labour councillor Linda Kelly, left the council chamber without listening to the response on their concerns by the Town Hall, following which Cllr Harvey Odze (Con, Springfield) said: "They left because they didn't want to listen to Corbynite antisemitism."
The comment provoked general consternation amongst Labour councillors, some of whom called for Cllr Odze to be removed from the chamber for having said it, others proposing a motion to have him referred to the committee governing councillors' standards of behaviour.
Neither move was accepted under the rules of the meeting by Speaker Cllr Kam Adams (Lab, Hoxton East & Shoreditch), who repeatedly gave Cllr Odze opportunities to withdraw his comment, which he declined to do.
While the Springfield councillor would not elaborate on what was said, it is understood that the comment was not intended to be directed at any specific person, or in reference to the West Bank cycleway policy, but as a general statement on antisemitism in the UK Labour Party.
Hackney Mayor Philip Glanville (Lab & Co-op) said: "I'm going to tread incredibly carefully in what I've got to say. There is hate and antisemitism in Stamford Hill, directed against our fellow citizens. We stand absolutely and resolutely against it.
"In this chamber we have passed two resolutions against hate, one more broadly and one more focused on the definition around antisemitism, and we were very pleased to pass it.
"Accusations of antisemitism have been made in this chamber, and surround transport infrastructure changes that have nothing to do with antisemitism, and are just meant to improve the lives of all those in the borough.
"I will not accept that our response to climate change, traffic pollution or air pollution is in any way antisemitic on behalf of our officers or on behalf of this administration.
"We will continue to oppose antisemitism and hate in this borough, and oppose those who continue to use it for political advantage."
Linda Kelly had introduced residents' deputation to remove the cycleway by arguing that its impact ran counter to the Town Hall's pledge to "promote values of tolerance and inclusion on behalf of its constituents", going on to call for an equality impact assessment over the plans.
Kelly said: "There is an amazing gaping exception [to inclusion in Hackney], and that is the Charedi community in Stamford Hill. The collateral damage of that gaping exception is all the neighbours in West Bank and the surrounding areas.
"If the council really wants to promote diversity for all its consituents, the officers who put forward the CS1 route should have done an equality impact assessment. They are not blind to the established community in the area, and what it needs.
"We all know why people need to cycle, we all agree that it's healthy and a way of saving carbon emissions, but this is on a residential street, that was a two-way street that you're converting to a one-way street."
The Hackney Mayor quizzed Kelly on what the community's businesses are doing to promote road safety and what the community is doing generally to reduce car use, to which the deputee responded that education and encouragement of walking were both important.
Kelly added: "There are people living there that have to use their cars. If you have twelve children in a family, how do you expect them to carry their shopping home or feed their children?"
The former Labour councillor also pointed to a consultation on the scheme, to which 61 per cent of postal votes had been opposed, whilst 75 per cent of online responses had supported it.
When Cllr Jon Burke (Lab, Woodberry Down), cabinet member for transport stood up to address Kelly's points, however, she said: "I'm very sorry. I will not be listening to his answer, we are going home."
Burke responded to residents' concerns regardless, announcing that to fight the high levels of toxic air pollution in the area he would be expediting the process for two new school streets, one at Holmleigh Primary School and one at Sir Thomas Abney Primary School.
The transport chief also pointed to Stamford Hill police evidence, which said that the majority of vehicles in the parking spaces which had been removed for the scheme had either been abandoned, used as storage areas for local garages, or had been those of non-residents.
Burke said: "Parking in the Stamford Hill West area is a complete nightmare. The plain fact is that the increased dangerous driving and parking violations has not come from West Bank cycleway. It has two principal causes, and one principal solution.
"The first cause is the extremely large and unjustifiable number of high-polluting car journeys that take place in the area. The second cause is a recent controlled parking zone in Haringey, which has displaced vast amounts of commuter and business vehicles.
"The solution to the problem is as plain as the nose on our face. This area is one of the few areas of Hackney that is not subject to a CPZ. It is very much in the interests of residents living in the area to support such a zone. If those residents really do want to acquire parking spaces, they should fully support the imposition of a CPZ.
"Sadly, on multiple occasions, local opinion-formers and political figures have encouraged the local population of Stamford Hill West to act against their own interests by responding negatively to this consultation."