Artemis of the Lea, Amanda Lwin: 'Elevating human waste into something precious'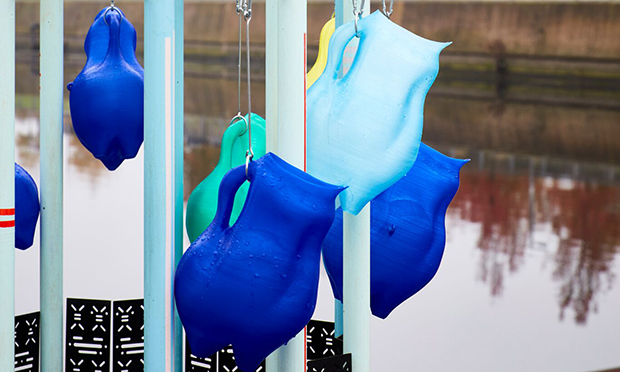 We were promised a park. Now, seven years on from the 2012 Games, what remains is a maze of unnavigable tarmac and concrete, anchored by a tangle of red steel built by one of the most carbon-intensive companies in the world.
The Olympic legacy is an assault on nature of epic proportions. Yet by the side of the canal, in a section that runs between a series of huge phallic posts, Amanda Lwin's temporary installation Artemis of the Lea speaks to us in an altogether different vernacular.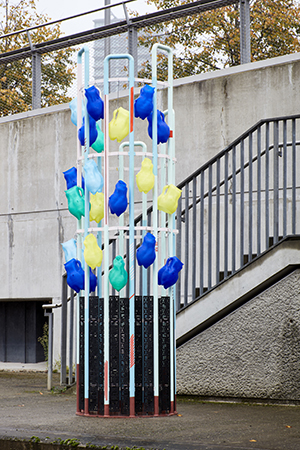 This innovative project, commissioned by UCL Culture in collaboration with researcher Dr. Tse-Hui Teh, consists of a frame hung with a number of brightly-coloured jugs that function as both gender-neutral urinals and watering cans.
The vessels, whose curvy shapes echo the forms of ancient fertility goddesses, can in fact serve both purposes at once.
With its high nitrogen content, human urine makes an excellent fertiliser, and on the final day of the installation, the watering cans will be distributed to local allotments.
The shimmering, translucent containers are intended to elevate human waste into something that is precious and treasured.
The artist recounts: "Over the summer, I spoke to allotmenteers around the Lea Valley, to encourage them to use urine on their crops.
"There were two main responses: one, hilarity; two, 'I do that already, I just don't talk about it!'"
The jugs will undoubtedly come into their own once they are put to use; unfortunately the current installation is somewhat overwhelmed by its surroundings.
Like many things in the Queen Elizabeth 'Park', Artemis sits behind a six-foot metal fence that lines the perimeter of the canal. A metaphor, perhaps, for our current urban predicament?
Artemis of the Lea by Amanda Lwin runs until 27 October at Queen Elizabeth Olympic Park, E20 2AD, on the canal between the Orbit and the Aquatic Centre.