Hackney photographer up for charity award after live-tweeting stem cell donation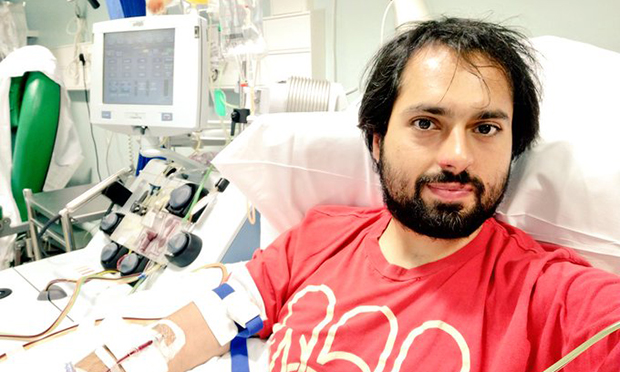 A Hackney photographer has been shortlisted for an award from blood cancer charity Anthony Nolan after live-tweeting his experience of donating stem cells last year.
Sonny Malhotra is in the running for Donor Champion of the Year at the Anthony Nolan Supporter Awards, which take place at the Tower of London on 28 November.
The prestigious awards, now in their seventh year, recognise the achievements of volunteers, fundraisers and campaigners who help the charity save lives.
My nurse us here for day 1 of 4 of the hormone injections. I asked if she was okay with me taking some pictures.

She was okay with me taking some pictures. pic.twitter.com/zhyuhDC5bp

— Sonny Malhotra (@PhotoSonny) July 8, 2018
Anthony Nolan finds matching stem cell donors for people with blood cancer and blood disorders and gives them a second chance at life.
It also carries out groundbreaking research to support patients after a stem cell transplant, with a team of nurses and psychologists providing guidance.
Sonny was shortlisted in the Donor Champion category after his Twitter thread documenting his experience of being a stem cell donor went viral.
After signing up with Anthony Nolan years ago, he was told in 2018 that he was a potential match for an anonymous male patient.
I glanced down and was briefly terrified of the luminous quality my blood in the in the line had taken on.

Just my phone's charger cable. Panic over. pic.twitter.com/YHuJsaXyvK

— Sonny Malhotra (@PhotoSonny) July 12, 2018
He decided to share the process from start to finish, posting funny and informative updates in a thread that took off after celebrities including former Wales goalkeeper Neville Southall, actor Sanjeev Bhaskar and singer Kate Nash retweeted it.
He also helped to raise awareness of stem cell donation in other ways, including giving a talk in Westminster for Anthony Nolan's Communities vs Blood Cancer event, which gives MPs an insight into the charity's work.
Sonny said: "I wanted to tell the truth about what donating was like, and it was so much easier than I thought it would be!"
Got a letter from @AnthonyNolan last night and opened it up with some degree of trepidation. I'd asked to be informed of my recipient's response to the transplant, good or bad, and I didn't know what information awaited me in the letter.

So so so happy to hear he's doing well! pic.twitter.com/HS2cv5FWHS

— Sonny Malhotra (@PhotoSonny) October 23, 2018
He has been key in engaging young men and people from Asian and other minority ethnic backgrounds, whom Anthony Nolan is particularly keen to see join the stem cell register.
Sonny added: "Coming from a mixed-race background, I remember my mum telling me when I was young that there weren't enough Indian people on the register, and it's something that always stuck with me.
"I will continue shouting about the need for stem cell donors and how little of an inconvenience it is to donate."
The full length version of the video of me chatting about why getting on the @AnthonyNolan register (and particularly BAME persons getting on the register) is here: https://t.co/1LDhpL7OvA

If you're 16-30, sign up to literally the easiest way to save a life ever.

— Sonny Malhotra (@PhotoSonny) January 31, 2019
Anthony Nolan chief executive Henny Braund said: "It is remarkable to see how many people support our work to find a match for those in need of a stem cell transplant. Without them, none of our life-saving work would be possible.
"Sonny has shown tremendous commitment to Anthony Nolan by continuously raising awareness about the need for more people on the register."
Braund added: "We want to extend a huge congratulations to Sonny and look forward to celebrating with him at the awards."
Winners of all the awards will be revealed at the ceremony.
To see the full shortlist and to find out more about the charity, visit anthonynolan.org/awards