Peer gallery and Shoreditch Library to launch year-long arts partnership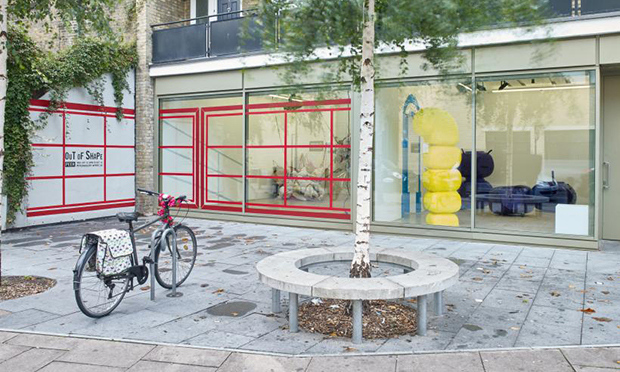 Peer gallery and Shoreditch Library are to launch an "ambitious" 12-month partnership later this month that will see them jointly host a three-part programme of art exhibitions and workshops.
Peer in the Library (PITL) opens on 25 October at both the Hoxton gallery and the library just across the street.
Artists have been invited to create work about the power of the spoken and written word in a variety of media.
The first part of the project is Returns and Renewals, a dual-site exhibition by Sara MacKillop, whose art is immersed in the paraphernalia of the printing and stationery industries.
The show will be on display at Peer from 25 October until 21 December, and at Shoreditch Library from 25 October until 1 February.
Part two, from February until May next year, is a project curated and hosted by One of My Kind (OOMK), a publishing practice led by artists Heiba Lamara, Sofia Niazi and Rose Nordin.
The collective distributes books and printed works that arise from self-initiated art projects, including OOMK Zine, a handcrafted publication based on the imagination, creativity and spirituality of women.
For PITL, the group will take up a four-month residency at Shoreditch Library with an exhibition and workshop series.
The final part of the collaboration is a curated group exhibition, to run from June until September, which explores language and how it shapes our cultural identity.
The centrepiece will be the culmination of a 25-year project by east London-based poet and translator Stephen Watts, who has created an analogue database of the complete bibliography of poetry in English translation.
Watts' magnus opus will be the reference point for the presentation of films, photography and installations that consider how language shapes our understanding of the world, and how dying and extinct languages can be understood as a kind of death of knowledge and culture.
Commenting on the partnership, Peer director Ingrid Swenson said: "Arts and culture illuminate and enrich our lives, positively impact on social cohesion, can improve people's physical and mental health and have a wealth of educational benefits.
"Libraries are secular, welcoming, trusted spaces, where people can explore and share reading, information, knowledge and culture.
"Peer in the Library will be an ambitious and powerful way to combine arts, culture, community and knowledge sharing into an expansive and integrated programme of activity."
The project has been made possible by £16,500 from Hackney Council's new Shoreditch and Hoxton Arts Fund, created by a levy on developers in the local area.
Announcing the first beneficiaries of the fund last month, Town Hall culture boss Cllr Guy Nicholson said: "Shoreditch and Hoxton have seen huge cultural and economic investment in the last 15 years, with some of the world's leading tech, digital and creative companies making their home here. 
"But it's vital that change benefits all of our residents, which is why this funding – which comes directly from a levy placed on new developments in the area – brings together local people and arts groups to deliver this fantastic community-led programme."
For more information about Peer in the Library, head to peeruk.org