Artist creates immersive schizophrenic experience for new exhibition in Hackney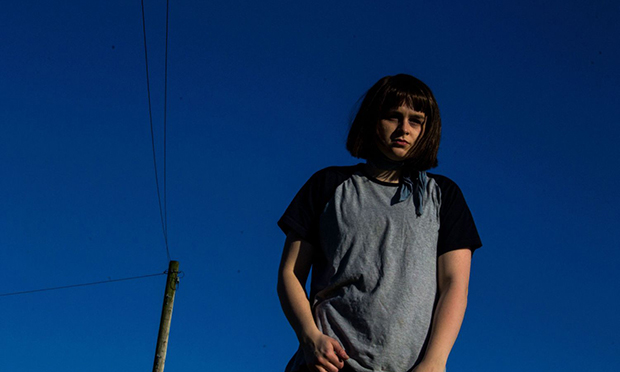 A new exhibition in Hackney Central will see visitors immersed in a psychotic experience, carefully crafted using sound and video.
PYLON, the first London solo show by Southampton-based artist James Paddock, opens on 5 September at A-Side B-Side Gallery on Mare Street.
The installation takes the viewer on a journey with a young woman called Lilly (played by actress Amber Weyman) as she goes through a schizophrenic episode.
To convey the experience, Paddock uses moving image and special audio techniques such as binaural sound, an auditory illusion created in the brain when two slightly different frequencies are played into each ear.
The intention is to place the viewer in "another reality where wind, sea, creatures and even cars are telepathically connected to the main protagonist".
PYLON continues Paddock's interest in subjects which he feels do not get the attention they deserve in contemporary society – in this case, mental health.
The exhibition attempts to expose an often unreported side of the schizophrenic experience, where non-violent and caring voices dwell.
Paddock said: "I wish to contribute to breaking down stigma surrounding mental illness. When people think of psychosis, they might imagine an unreality in their minds.
"By discussing such a difficult and often controversial topic through the medium of art, I hope to offer an alternative route to understand the condition and help dispel the surrounding myths."
He added: "I've worked in collaboration with experts such as Richard Gott, a leading sound recordist, to encompass the 'voice hearer's' experience using binaural sound – enabling the audio to be positioned as a 'voice hearer' might experience it.
"I have also worked site-specifically and developed the sculptural element of the installation in direct response to the characteristics of the gallery space, heightening the immersive experience for the audience."
The exhibition is funded by Arts Council England, and Paddock said he is "pleased it has recognised the importance of my work and the contribution it can make to tackling difficult subjects in society."
PYLON runs from 5-10 September at A-Side B-Side Gallery, 352 Mare Street, E8 1HR.
The exhibition will be reassembled at Black Box, an arts space located at the Farnham Campus of the University for the Creative Arts in Surrey, from 21-31 October.