Council to put up warnings about ticks after woman reports catching Lyme disease in Clissold Park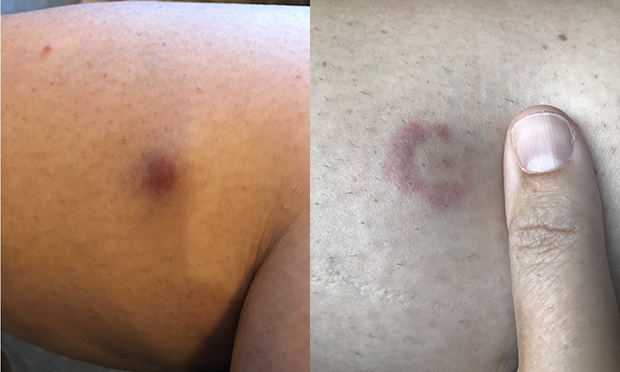 Hackney Council is to put up information about the presence of ticks in Clissold Park after a woman reported contracting Lyme disease during a visit last month.
Andrea Smyth, who lived in Islington for ten years before moving to Denver in 2012, stopped off in London in July to spend time with friends.
After hearing Clissold Park was a "great place to meet since there were lots of families" in the neighbourhood, the group decided on an evening in the dog-free area, by the bowling green.
Andrea said: "We arrived at around 6pm but decided to break up the party at 8.30pm because some of us were starting to get bitten.
"We didn't think anything of it at the time. We just assumed it was mosquitoes or other bugs. This was 17 July.
"My family and I arrived home in Denver late on 18 July. A couple of days later, one of the friends we met up with sent a group text with a link to a Hackney Citizen article, telling us to check our bites since there was Lyme disease found in Clissold – in the exact area we were hanging out.
"I had some normal tick bites, and one that looked a little worse than the others."
Andrea said she "knew the chances of contracting the disease were low", and hadn't found a tick on her, adding: "Certainly none that were attached for 36 hours, which many articles say is the minimum time a tick needs to hang on for to transmit the disease.
"Regardless, I went to the GP to get it checked out."
Andrea was prescribed a dose of Doxycycline and told to keep an eye on the bite to see if there was any improvement.
She said: "I was completely fine with that approach since, like I said, I really didn't think I would actually get Lyme disease.
"Anyway, a week passed, the bite did not improve, and was now showing the bullseye pattern that you commonly read about.
"I went back to the GP – a different doctor – and she confirmed Lyme disease. She then prescribed a 21-day course of Doxycycline. This was on 31 July.
"During the period from when I was in Clissold Park to the point where I saw the second GP, I did not have any overt symptoms; just that one bite that looked different than the rest.
"The bullseye rash only appeared two weeks after I was bitten."
Lyme disease is a bacterial infection which is "easier to treat if caught early", according to the NHS.
The most common sign is a circular red skin rash around a bite, often compared to a bullseye on a dartboard.
But not everyone who is infected will get a rash, with some also suffering from flu-like symptoms.
The NHS says most people get better after a course of antibiotics, but a small number can end up with post-infectious Lyme disease, which results in "tiredness, aches and loss of energy" that can last for years.
Fortunately for Andrea, her prognosis is positive, although she said the medication made her feel "pretty crummy – sore knee joints, sore neck and tiredness".
She added: "I caught the disease in the early stages so the medication will very likely wipe it all out.
"I'm not concerned about my prognosis, but I want to ensure other people are made aware of the potential risk."
Andrea emphasised that there was "no way" she could have suspected there was a chance of catching Lyme disease in Clissold Park.
"It was only by chance that my one friend had come across the Citizen article and made us aware of the potential risk," she explained.
"Without this, I would never have suspected my bites were from ticks, let alone that I potentially had Lyme disease."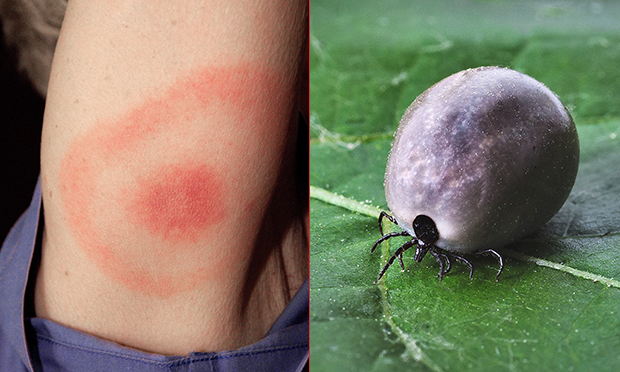 It is understood the council put up warnings last year after reports of a local jogger contracting the disease in the same dog-free area of Clissold.
But Andrea says there were no signs up when she visited.
The council says it will put up information for residents regarding the tick presence in parks which will include guidance on Lyme disease from the NHS.
The information will be shared with local GPs, who can pin it up in their surgeries.
But it is understood that the Town Hall does not want to unnecessarily panic people or stop them visiting in light of what is still an unconfirmed report.
Jenna Fansa, who runs local network StokeyParents, on whose Facebook page last year's report first emerged, said: "Clissold Park is an important part of local life – we're very lucky to have such an amazing space, a green lung in the heart of our community.
"Ticks are common throughout the UK and it isn't unusual to find them in parks in the capital.
"There are simple measures people can take to avoid tick bites, such as using repellants.
"Having posters in the park highlighting the presence of ticks, and what to do if you get bitten, seems a sensible idea.
"Given the benefits of getting outside, enjoying sport and community life, I hope this won't discourage people from coming."
A Hackney Council spokesperson said: "Ticks are present in parks across London, but only a small percentage of these carry Lyme disease, so the likelihood of contracting the disease is very low.
"However you should always check yourself and your pets after visiting parks or the countryside and remove any ticks as quickly as possible using a tick removal tool.
"To minimise your risk of being bitten you can use insect repellent and avoid walking through dense vegetation.
"If you have been bitten and start to get flu like symptoms or a circular red rash then visit your GP."
Research published recently in the BMJ Open journal suggests the number of Lyme disease diagnoses in the UK could hit 8,000 in 2019 – around three times higher than previous estimates.
For more information about Lyme disease, how to spot ticks, and the treatment available, head to nhs.uk/conditions/lyme-disease/