Island Social Club, Haggerston: 'Soul-lifting celebration of Caribbean culture'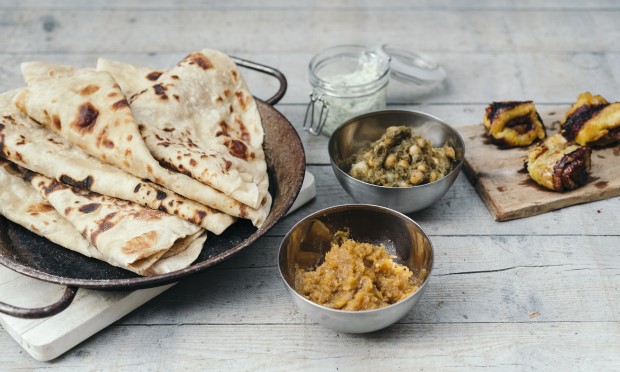 When I visit Island Social Club, it is the hottest day ever recorded in London, with temperatures reaching a sweltering 38 degrees. I am angry and sweating from the nightmarish train journey over.
But I soon discover that this gem of a restaurant – a year-long residency at Curio Cabal on Kingsland Road – is worth battling the heat for. 
Island Social Club was founded by chef Marie Mitchell and drinks specialist Joseph Pilgrim with the aim of reviving the British Caribbean culture in Hackney.
As Caribbean Londoners and keen supper-clubbers, they wanted to fill the space left by the disappearance of the once thriving Caribbean social scene in London, bringing it back to life through rum and roti. 
As my friend and I settle down outside in a wood-panelled area with a corrugated iron roof and walls decorated with painted plants, it's hard not to feel relaxed.
We order cocktails, opting for the "Trini Lime" with bitters, sugar and Clarke's Court Pure White Overproof Rum, and, feeling adventurous (or maybe it's the heat), the "Scotchy Margarita" – a seemingly dangerous combination of margarita and scotch bonnet chilli peppers.
Both are delicious – the "Trini Lime" is refreshing while retaining the intensity of a rum punch, and the kick of the "Scotchy Margarita" gives it a welcome added layer of flavour.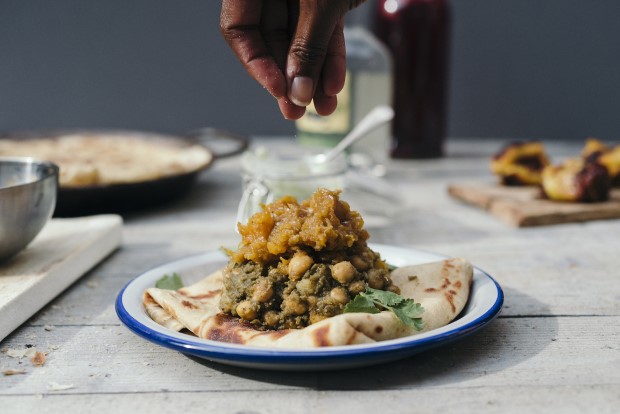 Alongside our drinks we pick salt fish fritters and (gluten-free and vegan) plantain to start from the short and selective menu.
The plantain is twice-cooked and blackened, giving the warm slices a sweet and moreish taste and soft texture.
The fritters, a delightful bright yellow colour from being deep fried in a Jamaican curry mix, are sensational. With a crispy outside and chewy inside packed with flavours of scallion, thyme and scotch bonnet, they are a definite contender for the best dish of the evening. 
Next up is the restaurant's staple – curries or stews with roti. Brought to the Caribbean in the 1830s by indentured labourers from South Asia, roti is a buttery, layered flatbread and a symbol of the Caribbean's diverse history.
Here, the roti is "made with love", and it certainly inspires a lot of love when you taste it; it is warm, squishy and griddled to perfection.
Although the question of the best way to eat a roti is riddled with contention and debate, it is agreed that it should be used to mop up a hearty curry or stew.
We go for the Curry Mutton and the Italist – a slow cooked vegan vegetable stew with coconut, cabbage, sweet potato, chilli and ginger. 
If you are a meat-eater, I couldn't recommend the Curry Mutton more highly. Marinated for 24 hours, the meat is soft and tender, lentils and potatoes give it a home-cooked feel and strong notes of garlic and ginger add real complexity and depth to the sauce.
The Italist by comparison is subtler, but still with a delicious balance of spice and sweetness.
Over the course of the evening as the restaurant fills up, there is a real feeling of revival in the air with everyone sitting, enjoying excellent food and each other's company and even forgetting about the unbearable heat for a moment. 
Island Social Club is a soul- lifting celebration of Caribbean culture in London which you'd be mad to miss.