Extinction Rebellion: Free six-month display to be unveiled at V&A Museum of Childhood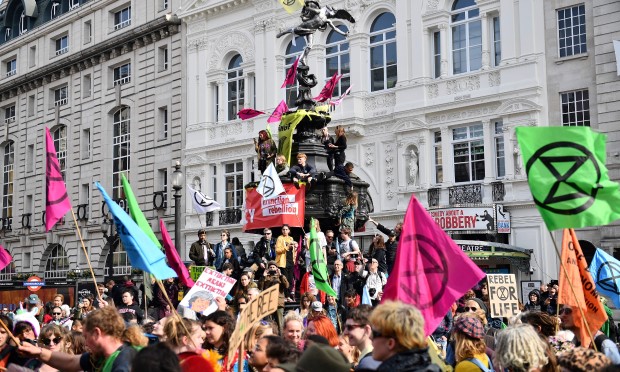 A hi-vis jacket, banners, flags and photographs from the Extinction Rebellion (XR) movement will form part of a free six-month display at the V&A Museum of Childhood in Bethnal Green.
The exhibition, which opens on 9 August and is aimed at all ages, will tell the story of how the global activist group has engaged with young families, and is part of the V&A's commitment to highlighting the impact of climate change.
It will examine how XR, through its design work, non-violent civil disobedience, values and organisational structure, creates spaces that are welcoming to all.
The display will be accompanied by a programme of free workshops and family-friendly activities, created in partnership with XR's Families wing.
Since its first public action on 31 October 2018, urging the UK government to declare a climate and ecological emergency and commit to reduce emissions to net zero by 2025, XR has grown into an international movement, with around 360 groups active in 59 countries around the world.
Museum of Childhood curator Kristian Volsing told the Citizen: "Extinction Rebellion has harnessed the power of design to bring attention to the climate crisis the world faces today.
"The non-violent actions they organise are a safe place for families with children and through workshops with the XR Families network, children are able to creatively express their concerns for their future.
"The display at the Museum of Childhood showcases how art and design can build creative confidence among children and young people, a fundamental remit for the museum, in its application to peaceful activism.
"The XR Families group has enabled this generation to make their voices heard on a subject that has massive implications for their future."
The V&A's announcement is part of a wider collaboration between the museum and XR that includes a major design exhibition which opens today at its Rapid Response Collecting Gallery.
Objects on show will range from the open-source XR symbol created by street artist ESP in 2011 and adopted by the group in 2018, to the Declaration that accompanied its first act of Rebellion, and flags carried during mass demonstrations.
Donated by the Extinction Rebellion Arts Group, a coalition of graphic designers and artists responsible for XR's Design Programme, the objects reveal how the activists have harnessed the power of open-source design to develop a coherent and impactful visual identity.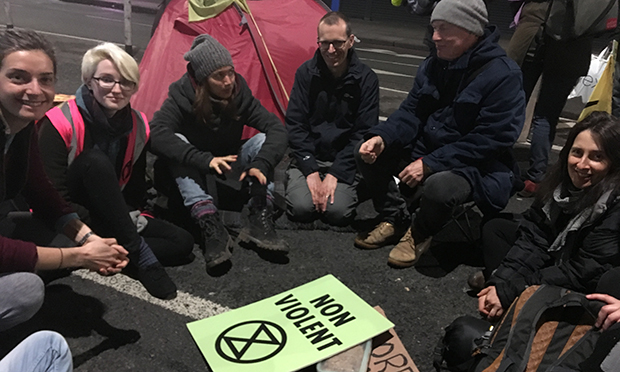 Corinna Gardner, senior curator of design and digital at the V&A, said: "Design has been key to Extinction Rebellion's demands for urgent action on climate change.
"The strong graphic impact of the Extinction Symbol alongside a clear set of design principles have ensured that their acts of rebellion are immediately recognisable.
"Punchy colours, woodblock prints, and carefully worded slogans available for download empower members of the public to produce their own creative responses that collectively amplify the XR's call to action.
"The objects we bring into the V&A through our Rapid Response Collecting programme are evidence of social, technological and economic change.
"Extinction Rebellion has galvanised public concern for the planet, and their design approach stands in relation to earlier protest movements such as the Suffragettes who encouraged the wearing of purple, green and white to visually communicate their cause."
XR's graphics are characterised by four core design elements – the use of the Extinction Symbol, the XR logotype, a colour palette of 12 playful tones including 'Lemon' yellow and 'Angry' pink, influenced by pop artist Eduardo Paolozzi, and the fonts 'FUCXED' and 'Crimson'.
Often juxtaposing imagery of the natural world with more sinister images of skulls and bones, the group's visuals articulate hope, while at the same time outlining the grave consequences it fears a failure to act will bring.
Clive Russell of the Extinction Rebellion Arts Group said: "XR is pleased our work and practice can be seen for free at the V&A, a collection that includes works by William Morris and other design activists from the past. All these designers addressed the issues of their times.
"The Climate and Ecological emergency is THE issue of our time and art and design is crucial to our non-violent actions and communication.
"We call on all artists and designers to think beyond the bullying constraints of commercial drudgery and join us in rebellion."
The XR display at the V&A Museum of Childhood, Cambridge Heath Rd, Bethnal Green, E2 9PA, will open on Friday 9 August.
For more information, head to vam.ac.uk/moc/
To find out more about the V&A's Rapid Response Collecting, visit vam.ac.uk/collections/rapid-response-collecting