Wrestling the Walrus, Yard Theatre: 'The pain and joy of the dementia experience'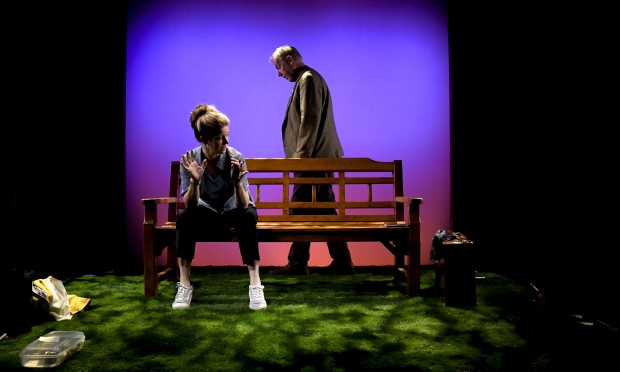 A woman meets a man on a bench at a local beauty spot and they together admire the view, chatting casually in what seems like an ordinary encounter. Gradually we realise that the man is experiencing dementia. 
Wrestling the Walrus, currently on at the Yard Theatre, is an award-winning play that captures both the pain and the joy of the life of someone with declining cognitive powers.
Over the course of the play the opening scene is repeated over and over, and with each repetition we learn more about the individuals involved and the meanings associated with the spot at which they meet.
Fragments of memory, imagination and stories are woven into an emotionally-charged fabric that evokes the cognitive style of those living with the condition.
The dialogue between Gracie (Leanne Rowley) and Mog (Nik Wood-Jones) takes on greater poignancy with each reiteration as companionship, devotion and loss mingle in quick succession.
Though the core scenery is spare, it is augmented with creative multimedia staging that includes live music and video.
Dementia may seem an unlikely topic for riveting theatre, but this production directed by Dan Mallaghan is hugely compelling. 
We feel the pain but also the joy and poetic beauty of the dementia experience, and the delicate treatment of the theme yields a production that is both entertaining and reflective.
Wrestling the Walrus runs until 18 July at the Yard Theatre, Queen's Yard, White Post Lane, E9 5EN.