Transport for London unveils plans to 'reduce road danger' at Dalston Junction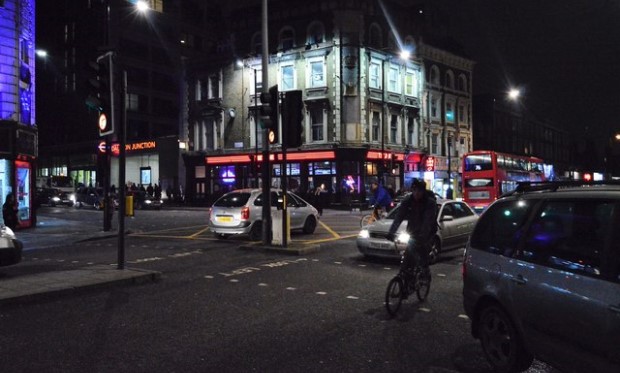 Transport for London (TfL) is asking the public for their thoughts on potential safety improvements at Dalston Junction – after unveiling £7 million plans to revamp five notorious accident hotspots across the capital.
The five newly launched consultations have been accelerated by the transport body's Safer Junctions programme, which is aiming to increase safety at 73 junctions.
Dalston Junction, where Balls Pond Road meets Kingsland Road, could see wider, upgraded footways and crossings for pedestrians and cyclists heading up the A10 towards the city.
Banning vehicles from turning left onto Dalston Lane is also being touted to help reduce the dangers to cyclists.
TfL hopes to start this work within the next 12 months, subject to the results of the consultation.
Mayor of London Sadiq Khan said: "We know that a disproportionate number of serious injuries and fatalities on London's roads occur at junctions, so it is vital we continue transforming junctions to make sure they are set up and designed around the safety of people walking and cycling.
"Not only will this investment reduce road danger but it will give more Londoners across our city the confidence to cycle and walk as part of their everyday routine."
According to national charity RoadPeace, 76 per cent of collisions in the capital happen at junctions.
Hackney's London Assembly Member Jennette Arnold welcomed the "positive" announcement and urged local residents to take part in the consultation.
She added: "This marks a stride forward in the implementation of TfL's Vision Zero strategy, which aims to eliminate deaths and serious injuries from our capital's roads.
"Reconfiguring and enhancing this junction will also boost the efforts being taken locally to tackle the scourge of air pollution, by providing easier and more secure access for pedestrians and cyclists."
The Safer Junctions programme launched in 2017 and has just finished work on the 29th of its 73 earmarked locations, all of which were chosen because of their higher-than-average collision rates.
But Green Party Assembly Member Caroline Russell is "worried that TfL and the Mayor have scaled back the ambition to be truly transformative".
She said: "The pace is just too slow, by the end of the Mayor's term a third of the original programme of 73 dangerous junctions will still be untouched.
"The changes needed to make our streets safe for walking and cycling can be made with small adjustments like this, but we need to see this happening all over London – especially in outer London which has the biggest unmet potential for everyday journeys to be walked or cycled."
In her 2018 'Cycling Proficiency?' report, Russell called on the Mayor to commit to completing more junctions by May 2020 and promise to finish all investigations of new junctions by then.
To have your say on the Dalston Junction plans, head to consultations.tfl.gov.uk/roads/kingsland-road