Mao Chow, Mare Street, food review: 'Tempting for even the biggest vegan-sceptic'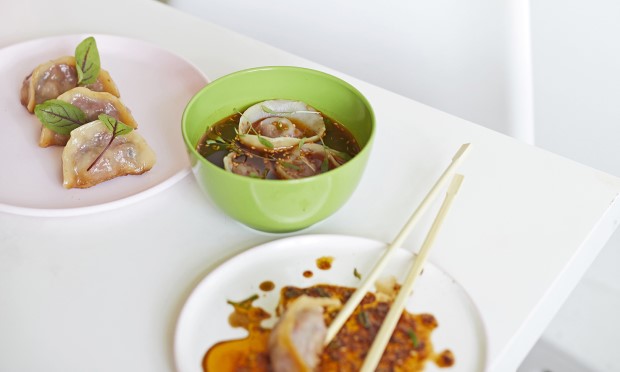 On busy Mare Street, a small, one-room space hosts a vegan, Chinese restaurant – Mao Chow.
Having successfully won over Dalston foodies, Julian Denis, the mastermind behind this vegan hub, has found a permanent location in London Fields.
Walking in, I'm reminded of a similar vibe to the small takeaway restaurants that populate the streets of Chinatown in Lower Manhattan.
I soon find out why.
"I learned from a Chinese chef back in New York, although his style was a bit modern. The stuff I do is a little more traditional," Julian tells me.
With the place packed with the typical Hackney crowd, Julian is singlehandedly preparing animal-free feasts for vegans and allies alike.
The space contains one large table which seats around eight diners, and a bar table with five stools – it's an intimate ordeal.
For this reason, many customers choose to take their food away to consume at home.
Whilst many have gladly brought their own alcohol, we are offered some Jia Duo Bao sweet herbal tea to accompany our meal.
We are told we can find this traditional favourite in any Chinese corner shop.
For lovers of sugar, such as myself, this drink offers the perfectly sweet contrast to a savoury meal.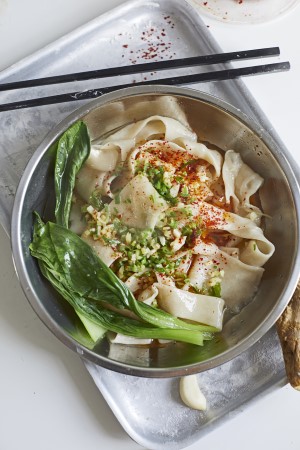 To start us off, we are brought a succulent oyster mushroom bao, which deceivingly tastes like deliciously crispy seafood.
As a bao lover, I am delighted by the perfectly soft texture of the bun, and its mouth-watering presentation.
The mayonnaise and coriander garnish ties everything together perfectly, rendering it a stellar take on a trendy Chinese classic.
As we move on to the fennel dumplings, I'm happy to report that they taste like a succulent version of their chicken-based originals.
The drizzle of chilli oil gives the dish just the right amount of spice to highlight the flavour on your palette, leaving your mouth with a prudent burn.
Finally, we tuck into the dan dan noodles, which are made of spicy sesame, meat-free mince, cucumber and pak choi.
Their presentation would tempt even the most vegan-sceptic. They provide a spicy explosion of flavour, which could be slightly overpowering for those who dislike spice.
More vegetables could complement the meaty texture of the fake meat.
However, the mince has a stand-out flavour and the dish leaves me pleasantly full.
At the end of the meal, I head over to give my compliments to the chef, and Julian redirects me to his unofficial business partner, Harry Fox.
Harry tells me they have received amazing feedback so far, and that the clientele has always left with a smile on their faces: "I love that it's so busy – Julian's food is quite special."
He tells me that cooking alone has proven to be a challenge for Julian: "I think a lot of places open up and get excited about making money and end up cutting corners, but Julian is working himself to the bone doing it all properly."
As we leave, we notice that the iridescent letterboard is the same used by the previous owners' cafe, reminding us how quickly a city can change and provide exciting dining experiences from all over the world.