Thirty-foot swastika daubed on Hackney Wick building owned by Jewish Brexit Party candidate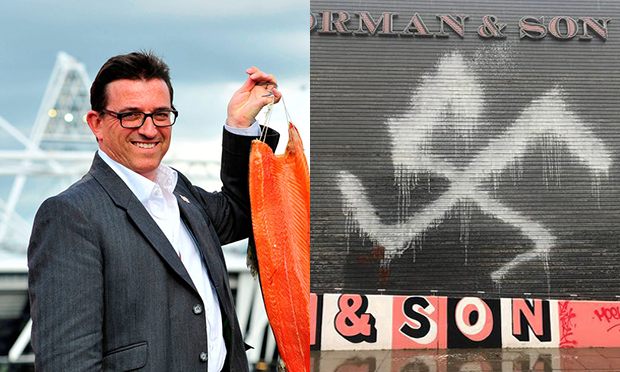 A huge swastika has been painted on the side of a salmon smokery in Hackney Wick belonging to Jewish Brexit Party candidate Lance Forman.
Forman was recently revealed to be standing in London in the European elections for Nigel Farage's nascent anti-Brexit movement.
He says the referendum result has been "totally disregarded" and he wants to help "save democracy".
The announcement sparked calls locally for a boycott of Forman's products.
At around 11.30pm on 7 May, CCTV captured three people spraying a 30-foot swastika on the side of H. Forman & Son, housed in a pink, salmon-shaped building on Fish Island.
It has since been washed off, but Forman, whose father is a Holocaust survivor, called it a "sick act".
He said: "If this is to do with me standing for The Brexit Party, people live in a topsy-turvy world.
"London Brexit Party candidates are Jewish, Muslim, Christian, Atheist, Hindu, Baha'i – no party is as diverse.
"The one thing we all passionately have in common is our belief in democracy."
He added: "My father is a Holocaust survivor who fled the Nazis and came to the UK after the war. My great grandad and founder of Formans fled antisemitic pogroms too."
Staff at H. Forman & Son have taken to Facebook to post images caught by nearby CCTV cameras, which police are investigating.
One commenter called the act the "most hateful thing I've ever witnessed in this neighbourhood".
Another said they "don't agree with the owner's politics but this is disgraceful".
A Metropolitan Police spokesperson said: "Police are investigating an incident of criminal damage to a building in Tower Hamlets.
"A swastika emblem was sprayed on a building at Stour Road, London, E3 at around 2330hrs on Tuesday, 7 May."
No arrests have yet been made.