Bird On The Wire Turns 10, live music review: 'Eclectic and unpredictable'
Ten years ago, London-based promoters Bird On The Wire held a mini-festival in a Dalston basement to celebrate their launch.
Testament to their ability to seek out and host the most exciting up-and-coming acts, the festival's line-up boasted the likes of Django Django, I Am Kloot and The Big Pink.
Since then, the Bird On The Wire team have gone on to develop big-name artists including Mac DeMarco, The War on Drugs and Nils Frahm, hosting them at gigs across the capital.
Now, a decade on, they're doing it all again with another all-day party at the bargain price of a tenner.
Bardens Boudoir – the venue of the original launch – now being defunct, the party has moved across the borough to Hackney Wick's Studio 9294.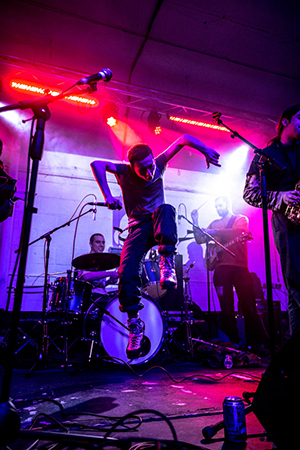 Perched on the banks of the Lea and overlooking the Olympic village, the huge rat that saunters past while we are queuing really cements the industrial feel.
Inside the warehouse the walls are papered with Bird On The Wire promotional posters from across the years. 
People mill around between the sunny outdoor area, complete with fake grass, fairy lights and DJ, and dark, high-ceilinged spaces where a vinyl swap is going on among the large concrete pillars.
The first band we catch, Black Country, New Road, set the tone for an eclectic evening of experimental and unpredictable music.
The line-up includes a violin and a sax. Together they create a punky, jagged sound which goes to unexpected places – at one point I'm convinced I hear traces of Careless Whisper.
It's challenging and not for everyone but an impressive display by six young musicians who are clearly up for pushing boundaries.
Sorry are next up. Outwardly another guitar band they turn out to be much more than that as they open with a moody, downbeat and captivating take on Louis Armstrong's What A Wonderful World.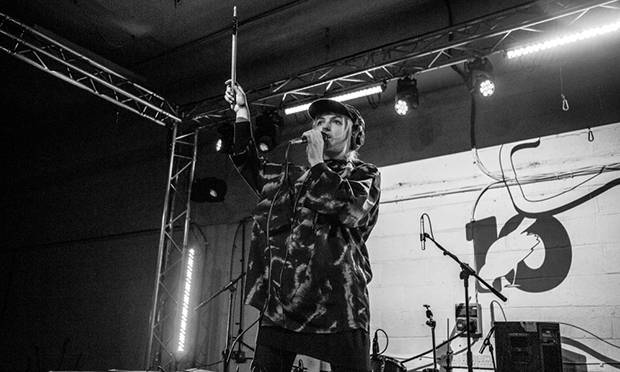 The genre-bending four-piece make grunge sound like a product of modern London life – simultaneously romantic and distorted, tongue-in-cheek yet sorrowful.
Luckily, much-needed light relief is in no short supply from the DJs playing in the other room. 
With Ariana Grande, Drake and a whole lot of Beyoncé the contrast is a feat of hilarious genius. It's guilty pleasures galore and everyone with any self-respect is dancing. 
In the last slot of the night are Steam Down, an increasingly recognisable name on the flourishing London jazz scene known for their weekly collective sessions south of the river.
I spot a keytar and am instantly sold. And they effortlessly win over the less easily bought members of the crowd with their blend of jazz, soul and hip-hop injected with West African influences.
Their energy is infectious and the all-day celebration of musical diversity concludes in aptly jubilant style.
Happy birthday, Bird On The Wire.