Campaigners question award of Britannia contract to company linked to 'poor behaviour'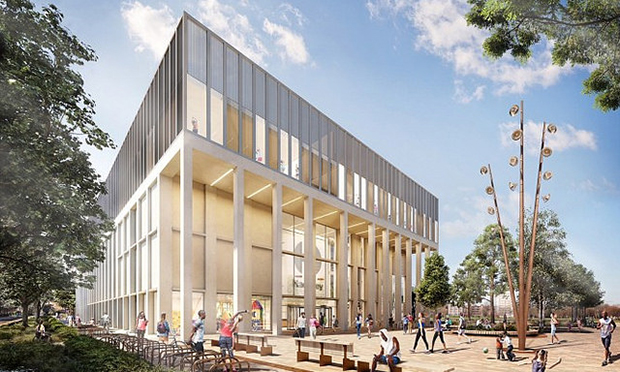 Campaigners in opposition to council plans to demolish and rebuild Shoreditch's Britannia Leisure Centre have questioned the awarding of a contract for the first phase of works to a company linked to allegations of "stark examples of poor behaviour".
An £810,000 deal with Morgan Sindall Property Services was torn up after the council's own officers witheringly criticised aggressive overpricing and substandard jobs as part of a review into the Town Hall's housing contracts.
It is understood that the council view Morgan Sindall Construction and Infrastructure, which holds the contract to deliver Phase I of the Britannia redevelopment, as a completely different company to Morgan Sindall Property Services, both of which are part of the Morgan Sindall Group.
Morgan Sindall Construction and Infrastructure states on its website: "We collaborate with our sister companies within Morgan Sindall Group to maximise our offering to customers."
Pat Turnbull of the Save Britannia Leisure Centre campaign said: "Shoreditch Park users are already disturbed by the large area of the park which has now been fenced off behind hoardings, and will be like this, we are told, for the next two years.
"It does seem odd, and a matter of concern, that a firm which has delivered unsatisfactory work for Hackney Council is now contracted by them to deliver the new leisure centre.
"It conjures up bad memories of the previous flagship leisure centre project by Hackney Council, Clissold Leisure Centre, which had to be closed for a lengthy period soon after it was opened because of problems with its construction, and which is believed to have sucked up so much money that it contributed to  the closure of Haggerston Baths."
The report revealing council disappointment in the services of Morgan Sindall Property Services is understood to have been based on information gathered during interviews with council officers two years ago.
The contract for Phase I of the new Britannia leisure centre was put out to tender in January 2018, with tenders received from bidders in March 2018.
The report, which was presented to the Living in Hackney Scrutiny commission two weeks ago, had council officers characterising Morgan Sindall Property Services as "demonstrating a lack of project management and electrical design skill", with officers frequently having to instruct the contractor on "how a program should be put together".
Hackney Council has said that the report includes ways of working that have been superceded by new and improved methods and scrutiny, and has pointed out that Morgan Sindall contractors were not given the opportunity to respond to or challenge any of the allegations or findings made by the council's own report.
Morgan Sindall Group has been approached for comment.
Richard Dobson, Morgan Sindall Construction and Infrastructure's area director in London, said in September 2018: "This is a key development for Hackney, which will play an important role in the regeneration of the area and deliver outstanding leisure and education facilities for people living in the borough.
"Our team has a deep and varied experience gained working on complex community, leisure and school developments in logistically-challenging urban environments and we're delighted to have been selected as preferred contractor for this landmark scheme.
"We look forward to working with the wider project team and the local community to provide an outstanding facility for the people of Hackney."
Morgan Sindall Construction and Infrastructure has been appointed to build the new Britannia Leisure Centre and surrounding public space, with Hackney's cabinet set to consider proposals to appoint the company to build the accompanying new secondary school.
Hackney Mayor Philip Glanville (Lab & Co-op) said: "Morgan Sindall was appointed following a full, public and competitive procurement process. It is an experienced company with an excellent track record of building first-class public buildings, and we are confident it will deliver a state-of-the-art new leisure centre for local people.
"We've worked together with Morgan Sindall to understand the issues and learn lessons from our previous contract with a separate, maintenance arm of the company that managed electrical services for Council homes, and will ensure these are applied to this project. This relates to issues from more than two years ago.
"Rather than simply managing decline, I'm proud that Hackney is building the genuinely affordable homes and public facilities our residents need across our borough. The only way to ensure high-quality leisure facilities are available, without a break for current and future generations, is to build a new Britannia Leisure Centre as the Council is planning to do."