Sitting, Arcola Theatre, review: 'Funny yet subtly devastating'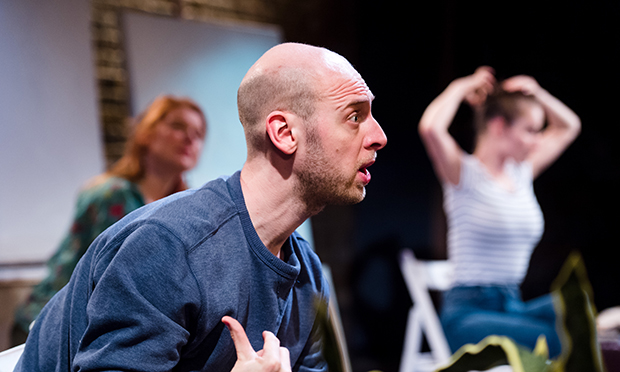 A young man wearing a tracksuit walks onto the stage, looks around anxiously and then slowly and awkwardly begins taking off his clothes.
As he sits down on a chair and carefully takes off the final piece of clothing, he suddenly jumps up, apologises frantically and scrambles for his discarded clothes.
He is not there for life drawing as he thought, but rather to have his portrait painted.
This is the opening scene of Sitting, the debut play by BAFTA-winning actress Katherine Parkinson (won for her role in The IT Crowd), currently showing at the Arcola Theatre after a sell-out run at Edinburgh Fringe last summer.
This idea of exposure – although not in the literal sense – is one that lies at the heart of this funny but subtly devastating work.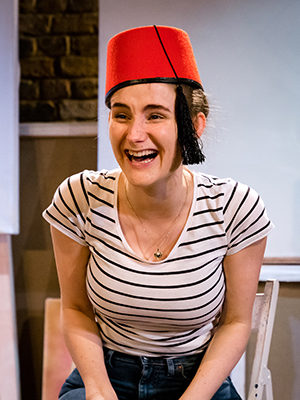 Sitting is set entirely in the attic studio of an artist called John, where Luke, Mary and Cassandra are having their portraits painted.
The play is essentially three monologues, with the sitters facing the audience and having a conversation with the silent and invisible John; as an audience, we feel as if we are filling in for this missing character.
Although the characters are rooted in the space of the artist's studio – an unfussy stage with a gramophone, a wooden floor, three chairs and a large blank canvas behind each sitter – they are suspended in time as we constantly shift between them, hearing each story as the others sit.
What starts as the characters rambling about their more superficial concerns – Luke complains about how irritating his wife is, wannabe actor Cassandra wants John to make her nose look smaller, and the middle-aged Mary talks about how she was once mistaken for the singer Meatloaf – soon delves into deeper territory as the characters open up to John, and in turn, to the audience.
As these individual stories begin to connect and unravel, united by shared experiences of loss, guilt, love and abandonment, a timeline starts to take shape and we discover some unexpected motives behind their presence in the studio.
Without any back-and-forth, director Sarah Bedi does well to keep the play from becoming static, but there are moments when transitions between the monologues feel slightly clunky, breaking up the flow of an otherwise well-paced production.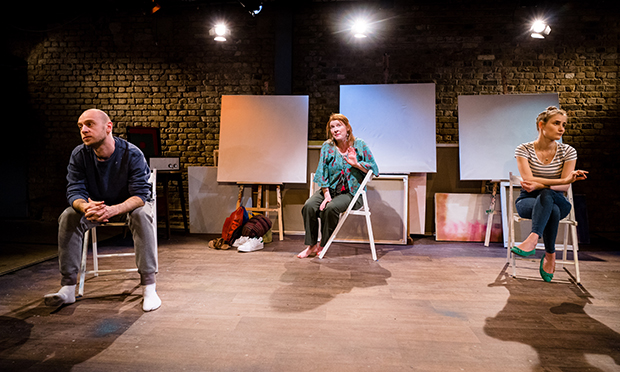 Poppy Fardell is brilliantly neurotic as the image-obsessed Cassandra (who even brings an array of her own props to help brighten up her portrait), her youthful intricacies summed up by her request that she be depicted as "vulnerable but strong", while Hayley Jayne Standing brings a grace and wistfulness to her portrayal of Mary.
At times, however, the distinctive traits of both characters can slip into caricature, made more jarring by the one-sided nature of the play's speech.
Mark Weinman gives a standout performance as the intensely likeable father-to-be Luke.
He chats about everything from seeing a UFO with his mum on holiday to the colour of the bedroom he is painting in anticipation of the birth of his daughter – "yellow – the one colour I don't like" – constantly correcting and questioning himself with an authentic self-consciousness.
As he gets slowly drunk on a bottle of wine and we learn about his absent father, Weinman adds a real softness to the character's nervousness and boyish demeanour.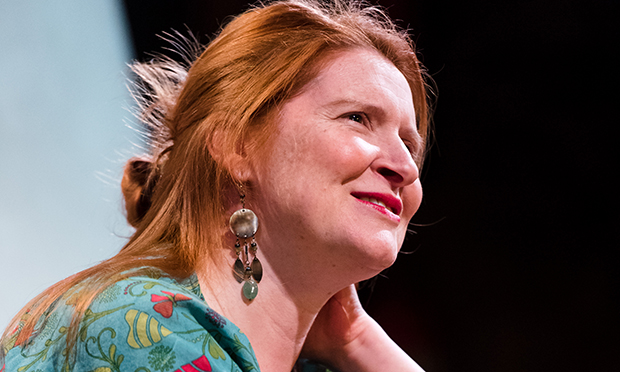 Throughout, Parkinson's comic writing lifts the play, which deftly switches between humour and tragedy, and allows for substantial developments in the plot to be carried off without melodrama.
The humour works particularly well in the play's dealing with cultural hot topics; a highlight being Luke's attempt to grapple with feminism and the #MeToo movement before the birth of his daughter, played with impeccable comic timing.
Although the final reveal does seem slightly rushed, leaving the audience with little time to process it, this doesn't seriously diminish the emotional weight of the play's ending.
Despite unanswered questions, we feel satisfied with the portraits of the characters we have been presented with.
In just 70 minutes, Sitting manages to turn the artistic project of painting a portrait into an exercise in scrutiny, revelation and human understanding, without ever taking itself too seriously.
Sitting is on until 11 May 2019 at the Arcola Theatre, 24 Ashwin Street, Dalston, E8 3DL.