'Chaotic and slipshod' chicken shop blocked from 5am closing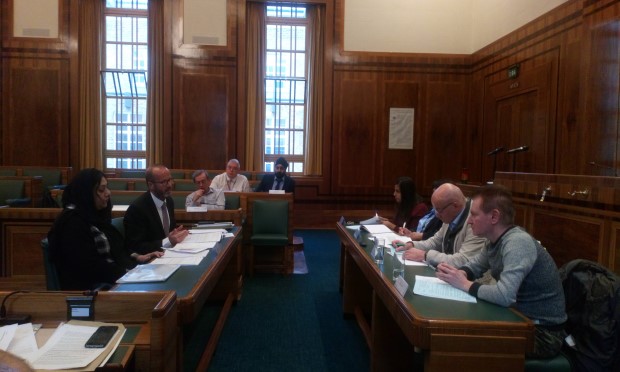 A chicken shop on Great Eastern Street has been thwarted in its bid for a late-night licence after concerns were raised about the manager's husband.
Selekt Chicken was seeking to stay open until 3am, and until 5am from Thursday to Saturday, but was blocked after councillors were not convinced that the applicant, Dr Shazia Saeed, would be able to exclude her husband Mohammad Kiyani from the business.
Kiyani had previously been censured by a district judge for a "chaotic and slipshod approach" to running the premises after appealing a licence revocation in 2018.
PC Neal Hunwick said: "During a visit on 25 November 2017 by police and immigration officials, the venue was found to be in breach of various conditions and the employee on the night ran off through six lanes of traffic on Old Street to escape and was never seen again.
"Mr Kiyani lied about the identity of this male, and was evasive, disingenuous and generally unhelpful in our dealings with him."
PC Hunwick added that, during a period in which Mr Kiyani was appealing his licence revocation, blood was removed from premises when a victim was bottled in the shop, which police were not directly informed about by him.
Referring to Mr Kiyani in September 2018, district judge Jonathan Radway said: "He has no real understanding of the need to abide by licensing conditions, and has no real compunction in ignoring them when it suits him.
"He has a chaotic and slipshod approach to administration which is inimical to running orderly licensed premises.
"He is willing to be economic with the truth to try and cover up his failings, and his casual approach to compliance leaves no room for confidence about future compliance, even though he promises it.
"We do not believe that someone who has a proven track record of ignoring the licensed conditions could be kept away from the business by introducing a condition to do just that."
Police found that the off-licence belonging to Mr Kiyani had opened again in December 2018 as a Selekt Chicken franchise despite it not having a licence.
According to the Met, Kiyani, on speaking to the police, "refused to accept" that he did not have a licence, presenting a copy of a planning appeal decision which he believed gave him permission to open until 5am.
Dr Saeed insisted at the 26 March licensing meeting that her husband would have nothing to do with the business, with her solicitor underlining that she herself was of "good character".
However police did not accept that Mr Kiyani would not be involved, presenting evidence that he had been a director of the company for a day after it was begun, after which point Dr Saeed was in charge.
Cllr Peter Snell (Lab, Dalston), said: "The applicant has not convinced the subcommittee that our licensing objectives would not be undermined, as we are not convinced that Mr Kiyani will not be in control of the premises and its operations.
"We are also not convinced that adequate management control procedures will be put in place if the licence is granted, and there is insufficient evidence of a good quality management track record to meet the needs of the area."