Tommy Genesis, Oslo Hackney, live music review: 'Tongue-in-cheek seediness'
Upstairs in Oslo, the bar, kitchen and music venue next door to Hackney Central station, I'm trying to resist the urge to take pictures of people in the crowd for a 'best dressed' feature.
The small space is filling up fast with young fans in adventurous outfits, dominated by wind breakers and octopus trousers.
You get the sense that this is the cult following of the still relatively underground Canadian rapper, Tommy Genesis.
With her lyrics about sexual deviance and gender normativity, the intimate venue with its quirky Nordic-influenced aesthetic is well-suited as a safe space for self-expression.
Synthetic and dreamy, the first support, Mickey Rose's sound has echoes of Yung Lean-style 'sad boy' rap.
Amrit, an Australian female DJ, is more successful in getting the crowd going.
She mixes pop classics like Wynter Gordon's 'Dirty Talk' into popular trap records like Shabba with a little bit of old-school soul thrown in for good measure.
She is very much in line with Genesis's brand, a musician as well as a social media influencer and sometime model with a sound that appeals to the internet generation.
It's not until Genesis herself arrives on stage however, that the crowd really comes to life.
They clearly adore her, rapping every bar and hanging on her every word – which mainly consist of: "Fuck, you guys really do know all the words! I've never had that before!"
This is Genesis's first show of her 'God Is Wild' tour and she looks genuinely overwhelmed by the reaction.
She really gives back to her fans, getting right up into the crowd and fixing her gaze on one of them while confidently delivering her lyrics, often explicit and hypersexual, over a backing track.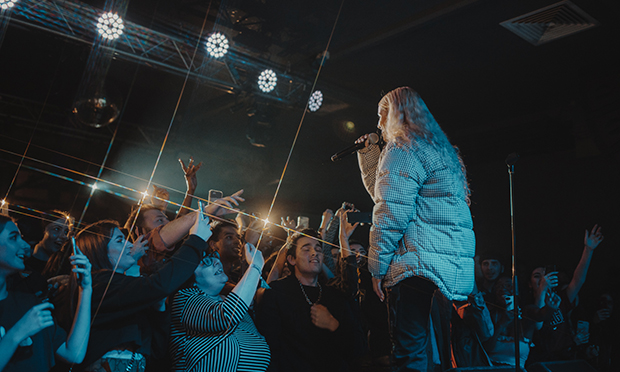 Genesis unashamedly seduces the audience, lifting her top provocatively as she strides round the stage.
It's tongue-in-cheek seediness, liberating and undeniably fun.
Once describing herself as a "fetish rapper", the Calvin Klein model has swapped experimental hip hop for a more poppy sound on her latest self-titled album, released back in November, her usual X-rated rap interspersed with singing.
Having worked with the likes of M.I.A and Dua Lipa, Genesis brings a definite new edge the female hip hop scene.
At one point she invites a guy up on stage to sing a verse of her track '100 Bad', remixed by Charlie XCX.
He looks like he's about to wet himself and really, who can blame him?
Tommy Genesis has a daring energy which is infectious.
By the end, I'm a little bit obsessed with her too.