Council bullying row: Diversity training announced as unions call for more staff to come forward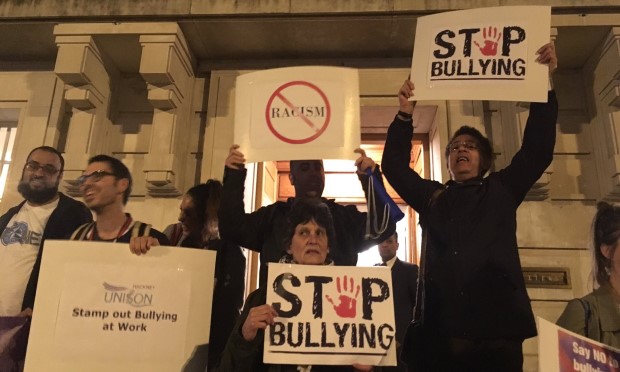 The deepening row over an alleged pattern of bullying, harassment and discrimination within the Town Hall made itself known at a meeting of Hackney's full council last night.
Divisions over the management of an independent investigation into startling allegations over the culture in the council's call centre caused trade unions this week to announce their formal withdrawal from the process.
While addressing Hackney UNISON's AGM on 27 February, the borough's mayor Philip Glanville (Lab & Co-op) announced that diversity training will be rolled out for managers.
UNISON, Unite and the GMB's campaign is pushing for more staff to come forward, saying that since the allegations first emerged in October, they have been "inundated" by complaints from across the council.
One UNISON member said: "The psychological strain of feeling invisible has caused me mental damage amid feelings of isolation, resentment, humiliation, frustration and illness.
"My lack of self-esteem impacted on my confidence to apply for new jobs and has affected my personal life. This has built up over years in working in London Borough of Hackney.
"Race has for too long been at the bottom of the council's Equalities hierarchy in practice, relegating the importance of racial discrimination in relation to gender and sexual orientation."
Central to the unions' campaign is the case of the October dismissal of Natasha Johnson, Unite's branch equalities officer, following her complaints of discrimination and harassment in the Town Hall.
Johnson had raised complaints at her employment tribunal over a manager implying she was smoking marijuana at work, and being told: "If you haven't got childcare, you shouldn't be working here."
The unions' list of claims include alleged slurs such as:
a black female member of staff being referred to as "a Taliban" and "a slave"
a manager stating they would start embracing their roots because they were white and white people used to enslave black people
a member of staff's history of domestic abuse being disclosed in public with the words: "Your partner is always pulling your hair out and you're a walking car crash."
Unions pulled out of the investigation into the allegations this week, protesting that they felt the council was not taking the inquiry seriously.
The campaign's concerns included the promotion of a manager from within the call centre while the inquiry into it was still taking place, and allegations of interference with witnesses by management.
At the 27 February council meeting, Cllr Carole Williams (Lab, Hoxton West), cabinet member for employment, skills and human resources fought off suggestions from Dr Heather Mendick, secretary of Hackney South & Shoreditch Labour Party, that the unions' experience of taking part in the investigation had not been positive, resulting in their withdrawal.
Cllr Williams said: "Hackney Council is an anti-racist organisation that campaigns on equality and goes above and beyond what other local authorities are doing.
"Fifty-five per cent of the executive are from an ethnic minority, and I would not be part of an administration that took equality and diversity for granted.
"In an organisation with over 4,000 staff, there will always be cases of management practice, particularly with new managers, that do not live up to the council's expectations.
"There is no request that has been made by the trade unions that we have not listened to, we're investigating the allegations, and today the Mayor has announced that all management will undergo diversity training.
"I'm not sure what else we could do beyond what we have already done."
Williams, who said she was "deeply and profoundly saddened and disappointed" by the unions' decision, also pointed to the council achieving a standard of excellence in the Local Government Association's (LGA) Equality Peer Review in April 2018, with staff feeding back they felt the council an inclusive place to work.
However, Hackney UNISON countered that the peer review highlighted "higher rates of dissatisfaction amongst BAME and disabled staff" in the Town Hall.
The review states: "There is still a visible gap of black and ethnic minority staff at senior levels despite the fact that they are over represented in the workforce more generally. [The LGA] were not told of any positive actions being taken to tackle this issue yet."
The LGA also warned that Hackney Council did not keep data on the number of disciplinary and grievance cases disaggregated by protected characteristics.
The review adds: "We think that this data should be collected. Staff survey data has already shown that disabled and BAME staff are less satisfied than other staff. More disaggregated data would be helpful for the council in addressing the reasons for this."
Speaking at a protest on the Town Hall steps ahead of the meeting, Marvin Hay, joint branch secretary and equality officer for Hackney UNISON, said: "There seems to be an acknowledgement that there were some issues of bullying and harassment within the council.
"It's quite sad that the unions had to pull out of the investigation, but at the end of the day we have to do what's best for our members, and we have little faith that this investigation is fair.
"More staff need to get involved and approach the unions as to what's happening in the call centre.
"There are also a significant amount of agency workers in the call centre, who don't have the same rights as the permanent staff, and we're fighting across the council for there to be more permanent staff."