Lydia Café blaze: Chef escapes serious injury after deep fat fryer goes up in flames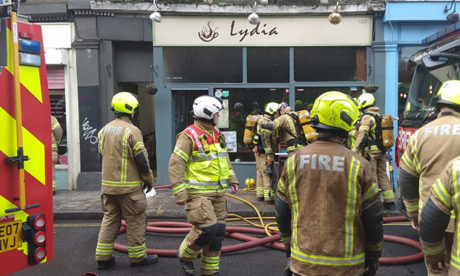 A chef escaped serious injury yesterday when trying to put out a blaze in a deep fat fryer at Lydia Café in Stoke Newington – prompting advice from the London Fire Brigade never to use water to tackle oil-based fires.
Two members of staff in the café and two residents in the flats above managed to flee the building on Church Street before help arrived, with one man treated at the scene for smoke inhalation.
Six fire engines and around 40 firefighters had the blaze under control by 1.12pm – an hour and a half after the initial call came in.
Part of the basement and a small part of the ground floor were damaged by the fire, which is believed to be accidental.
Lydia Café thanked well-wishers on its Facebook page, confirming that no-one was hurt and that it will be "closed for a while until we fix the damage".
A London Fire Brigade spokesperson said: "Staff saw the fire start in the deep fat fryer and the chef attempted to tackle the fire with a water fire extinguisher and fire blankets.
"Our advice is to never tackle a fire yourself and always get out, stay out and call 999.
"If you ever have an oil-based fire, putting water on it is the worst thing you can do as it can cause the oil to burst into a fireball.
"Thankfully, there was a fire alarm system fitted throughout this property which alerted the other people in the building."
The Brigade says it still sees a "substantial number" of kitchen fires involving deep frying with oil or fat, but lists a few ways to reduce the risks:
• Take extra care when cooking with hot oil as it can easily overheat and catch fire
• Never fill a pan more than one third full of fat or oil
• Make sure food is dry before putting it in hot oil – oil and water are a dangerous mix
• If the oil starts to smoke, it's too hot. Turn off the heat and leave it to cool
• Use an electronic deep fat fryer if possible – they have automatic temperature controls, and are much safer
• It's also really important to keep the hob, cooker hood and extractor fan clean too – built up fat and grease can ignite and cause a fire