Sutton & Sons Vegan Chip Shop and Cod & Co, food reviews: A tale of two chippys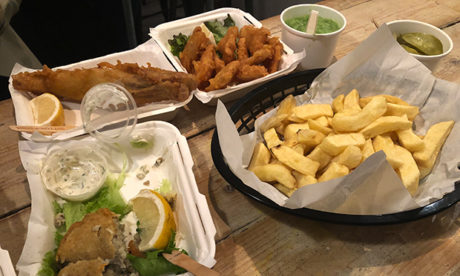 Sutton & Sons Vegan Chip Shop, 240 Graham Road, E8 1BP
Lizzie Deane
Throughout this month of 'Veganuary', the debate around vegan dishes that innovatively imitate the 'real thing' rages more fiercely than ever.
Some proclaim that vegan food ought to be an honest celebration of all things plant-based rather than an attempt to masquerade as some meaty equivalent.
The team at Sutton & Sons disagrees, setting up the first all-vegan fish and chip shop in London at their Hackney Central branch a couple of months back.
Sceptics may smirk at a menu awash with inverted commas, but why shouldn't vegans be able to enjoy their version of this Great British institution? Especially when it turns out to be ingeniously tasty.
Before I even have the chance to read the menu boasting all the chippy classics from 'tofish' to 'vish cakes', the USP of the small restaurant-come-takeaway is almost immediately obvious from the smell.
There is a distinct absence of the greasy aroma you so often find in chippies and this translates into the food.
Everything we eat is covered in a convincing eggless batter then fried in groundnut oil, satisfying the deep-fried craving without the guilt and slightly grim sense of post-dinner oiliness.
We order fish cakes, scampi and prawn cocktail.
The spread makes a very persuasive case for the potential of vegan substitutes to surprise and delight.
The texture of fish and seafood seems to me a more difficult thing to achieve than that of meat, yet the Japanese potato starch prawns have the just the right wobble and are packed with flavour.
Shitake mushrooms are used in both the fish cakes and scampi to great effect, delivering a definite essence of the sea.
The flagship banana blossom fish is sadly a bit of a disappointment to me. Marinated in seaweed and samphire to get that fishy flavour, it just doesn't quite pull off its imitation of cod or haddock.
Having said this, it's still tasty and perhaps impersonation was not the aim in this case. It certainly seemed to be a popular choice with customers.
For vegans and non- vegans alike, this clever little place is worth a visit if only for the intrigue of working out the subtle manipulations of flavour which, pretty successfully, create a chippy dinner that can be enjoyed by all.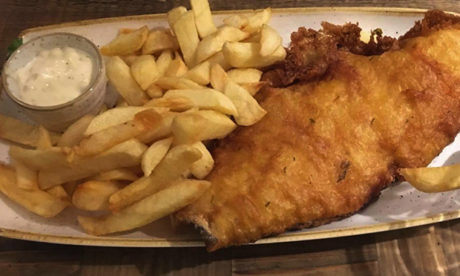 Cod & Co, 8 Chatsworth Road, E5 0LP
Alex Oscroft
Fish and chips, like tweed and vampiric landlords, has made a comeback in recent years as a throwback to a traditional British lifestyle, revamped for our gourmet high streets.
Cod & Co, sitting on Chatsworth Road, is even built to reminisce – crisp white tiles, chirpy chalkboards and pine green skirting create a welcomingly authentic picture.
Fortunately, Cod & Co manages to skip the tweeness and deliver delicious, filling meals with a minimum of fuss.
This should go without saying, but you'd better like fish, given there's nothing else on the menu save for a single paltry vegetarian option of grilled halloumi.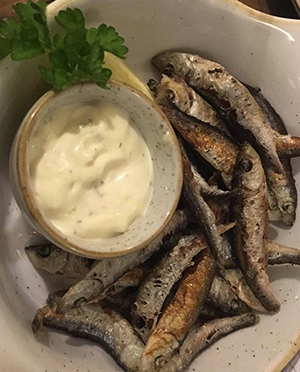 Saying that, even if a standard battered cod gives you sea legs, there's plenty of variety – the cider and fish pie, with an impressively-puffed puff, is filled with a comforting blend of cod, whole prawns and calamari, soaked in a creamy sauce that warms the soul.
The signature offering, a basil and lemon-infused batter, adds a tang to the classic that livens it up just enough to keep it interesting without going too overboard.
All the fish is battered and fried fresh right behind the counter, rather than left to sit under heat, which makes all the difference – every bite of their fish (cod, haddock, plaice and skate available) is moist and flavoursome.
The whitebait starter was perfectly crunchy and the homemade tartar sauce deliciously delicate.
Other than the fairly run-of-the-mill chips and the lack of veggie options, Cod & Co serves up a perfectly-rounded and lovingly cooked menu, and should be high on your list of Hackney eateries.