Get your Kicks on Root 73 – affordable recording studio and arts hub opens in Stoke Newington
Maya Diaz and Alex Burr speak calmly and matter-of-factly, as if there were nothing extraordinary in building a recording studio from scratch in three months.
However, anyone familiar with Root 73, a new affordable recording space with community hub attached located just off Stoke Newington High Street, will be struck by the scale of their achievements so far, and their ambitions for the future.
"We were musicians that wanted to develop ourselves, but realised that doing it by yourself is not always the greatest way to get to your goal," says Diaz.
Alongside Root 73's function as a commercial recording studio, the two describe the community ethos at its heart in which young artists have a place to meet other like-minded creatives and grow their work – for free.
Burr says: "We want to be a place for young people that want to get involved and have the dream, but have the barriers, either that they don't have the money to spend on their equipment or for studio time – we can basically provide those for them.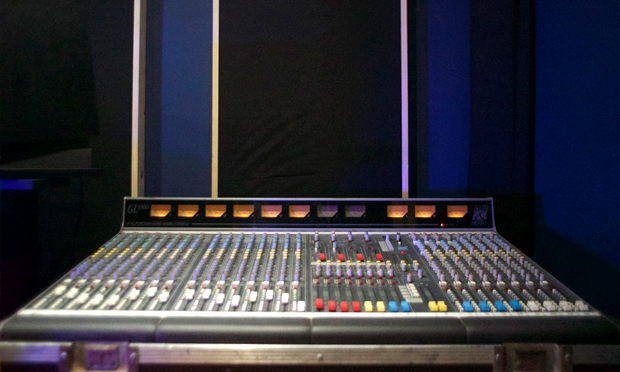 "Quite central to the whole thing working is that it's a two-way street – we do them a favour by doing everything to a high professional, commercial standard, and then by putting their music out on our platform, it helps our brand grow."
Diaz (26) and Burr (24), alongside co-founders Asher Korner (25) and Sonny Jake (24), started making music together in Diaz's Finsbury Park bedroom, and have now set up shop in Foulden Road's Total Refreshment Centre.
The two musicians explain that high prices for recording and rehearsal space, partnered with recent arts cuts, have created a challenging environment for young artists, inspiring Root 73 to model itself around artist development.
Diaz adds: "We had this community of so many talented artists around us and it was a way to bring everyone together, so about a year ago, we thought, OK, we're just going to need to do it."
And do it they have. Burr and Diaz's goal is to be a multifunctional arts space for Hackney in the vein of a Passing Clouds or eventually a Camden Roundhouse; attached to the purpose-built isolated studio is a large sitting room and bar area, with a grand piano and widescreen TV.
Diaz's enthusiasm is contagious: "If you're a young artist, and struggling to get yourself out there, let us help, and get involved with us, because we have a wide network of artists now that we can link together. You need a film person for your music video, you need artwork for your project – we know people, we can link you up with them.
"It's all about collaboration – it's not just about the music, it's about who you're getting to do the artwork, the video, bringing everyone together to pursue that common goal."
Root 73's next event will be held on 25 May at the Old Blue Last in Shoreditch. A sampling of the music from the artists in their community can be found on Soundcloud: soundcloud.com/root-seventy-three
They have also recently launched a crowdfunding initiative to help them kit out their studio with a new computer and microphones – donations can be made at spacehive.com/studio73