Get outdoors in Daubeney Fields with Heritage Lottery Funded project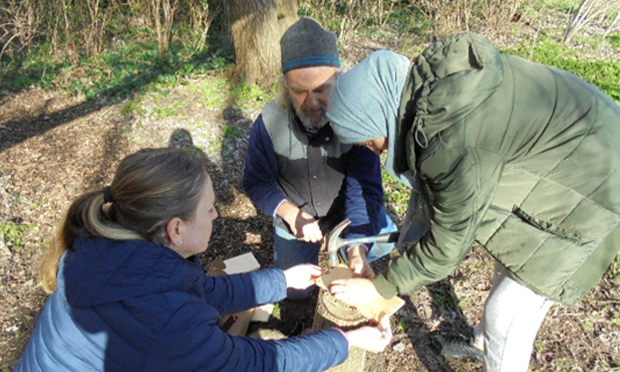 EcoACTIVE Education, a local environmental education charity, is running an exciting, free nature based project in Daubeney Fields, Homerton funded by Heritage Lottery Fund.
The "Access to Nature Daubeney Fields" project aims to get more people enjoying the outdoors and learning how to identify the wildlife in the park. Daubeney Fields, also known locally as Clapton Park or Daubeney Green, is a site of importance for nature conservation.
The charity leading this project, EcoACTIVE Education, is a Hackney based environmental education charity which is keen to make sure that everyone has opportunities to discover the nature in their local area. The "Access to Nature project" has been running free, fortnightly, nature based events in Daubeney Fields since September 2017.
Esther Falgate, project co-ordinator says, "It's been really great meeting people from the local area and learning about wildlife together. We've already learned so much about the plants and animals in the park and want to help others learn how to recognise and name them too."
The weekend events are often themed around national days including world environment day, apple day, bonfire night etc and aimed at all audiences from adults and young people through to families with toddlers.
Previous events have seen people learning how to build and put up bird boxes, installing a stag beetle loggery or simply making and enjoying their own pressed apple juice.
Weekend events will be running until August 2018 so there is still time to make it along. Upcoming events include trying your hand at making an elder pencil or necklace, creating some nature signs for a woodland walk, taking part in a bioblitz or joining in a community litter pick.
If you make it to nothing else, come along to the big summer bioblitz on 14th July 2018 in Daubeney Fields where you can learn some skills in identifying wildlife, help record the plants and animals living in Daubeney Fields and maybe even leave with a prize. Interested in these events? Find out more here; https://ecoactive.org.uk/events
Want to learn more about Daubeney Fields and its wildlife? Volunteer with EcoACTIVE.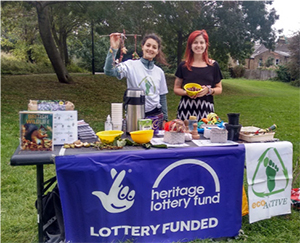 EcoACTIVE Education is running a volunteer training programme with the Access to Nature project for local residents.
Every volunteer will get a goodie bag of resources and free, professional training that help them identify and name their local wildlife. Volunteers also will gain experience in event management and working with children, schools and community groups.
Above all else, volunteers will have heaps of fun, meet new people and feel part of their local community. Denise Coates, a volunteer with the project says, "I've really enjoyed taking part in the project. It's a great excuse to get outside, meet some lovely people and learn a few new skills at the same time.
I particularly liked the wreath making session at Christmas and helping the children make bird boxes too, lots of fun". More information about volunteering here: https://ecoactive.org.uk/projects/access-nature-daubeney-fields
Interested in volunteering or joining our event mailing list? Contact Esther; esther@ecoactive.org.uk or 02085100113