Face on your Egg: Clown's Gallery in Dalston shells out for collection of precious new arrivals
A diverse collection of clown-faced eggs made the gentlest of landings at the Clowns' Gallery and Museum in Dalston last week.
Formerly housed at Clowning World in Somerset, the eggs serve as individual portraits of well-known clowns of the period, and are windows to a time when clowns ranked alongside actors and musicians as West End stars.
"I wrapped them each individually in cotton-wool for the journey," says museum curator, and long-time resident clown (or 'laughologist') at Great Ormond Street Children's Hospital, Mattie Faint. "I got a call telling me there was water coming through the wall down where they were in Wookey Hole, so they're now here for good."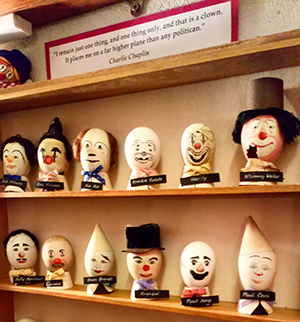 The fragile ovoids date back to the 1940s, painstakingly etched from life by Stan Bult. Not a clown himself, Bult was a circus and clown enthusiast who went to famous performers of the time to capture their faces for posterity.
This practice was subsequently adopted by Clowns International in 1988, soon after Faint joined the organisation; now each of its members has their own egg, immortalising their characters for life. Faint himself has four.
"A clown's face is totally integral to his character," Faint says. "Sometimes I'll tell other clowns, if they need to make a little change to get their face perfect, I'll give them some advice."
The eggs have had quite a journey to their present home. Faint, who has been clowning since he was 17, has been familiar with the eggs since he caught sight of them as a teenager as part of a diorama in now-defunct restaurant Clowns. Decades later, Clowns International reclaimed the eggs, which had been nailed to a collector's wall, as an important part of clowning history.
The museum, attached to Holy Trinity Church on Cumberland Close in Dalston, is open on the first Friday of every month, with free admission, with Faint (or 'Doctor Mattie' as he used to be known) always on hand to guide interested visitors through clowning history.
"Laughter is good for you; laughter and crying are so healthy, and both release endorphins," Faint says.
He remembers approaching a couple whilst fully in character at Great Ormond Street and asking them how they were. They informed him their son had just passed away, and, as Doctor Mattie, Faint instinctively pulled the couple into an empathetic embrace.
"That's the other side of it you don't see," Faint tells me. "The adults need you just as much as the children."
On the wall as one enters the museum is a quote from famous clown Butch Reynolds, whose egg is represented in the newly-installed collection – "Clowning gets into your blood, your looks and your ways, and when people know you're a clown, they will never take you seriously again."
Any visitor to the clowning museum must decide for themselves whether to take what they see seriously; what is certain is that once seen, it will never be forgotten.
Clowns' Gallery and Museum (Holy Trinity Church, 2 Cumberland Cl, E8 3TF) will next be open on Friday 6 April, or by appointment