Pretty in Punk: Julia Gorton's photos of the NYC punk and No Wave scene get an airing in Dalston nightspot
In the late 1970s, New York's Lower East Side was far from the gentrified neighbourhood it's now become.
With the city's finances left teetering on an edge by political neglect and demographic change, it was a dilapidated industrial landscape of abandoned buildings, populated by a few holdouts. But the cheap rents and abundant spaces also attracted young artists, musicians and misfits.
Legendary figures came to the Lower East Side, from Patti Smith to Richard Hell, Robert Mapplethorpe to Nan Goldin and Jim Jarmusch, along with the constituent band members of Talking Heads, Blondie, Mars, The Contortions, Television, DNA, Sonic Youth, Swans and many more.
It was the setting for New York Punk and its No Wave offshoot, and the incubation chamber for some of the most important subcultural figures of the twentieth century.
Julia Gorton's collection of photographs Pretty in Punk, now on display at Untitled bar in Dalston, gives a flavour of that time through her stark black and white photographs. Moving to the Lower East Side in 1976, Gorton began documenting the denizens of CBGBs nightlife with her polaroid camera.
Untrained but enthusiastic about making images that reflected the scene and its DIY ethos and aesthetic, she became art director of Beat It!, a No Wave magazine exemplifying the scrappy aesthetic of the time.
In recent years, new technologies have allowed her to share her images with the public through Instagram, small runs of homemade zines, and collaborations with streetwear designers, reaching a new audience beyond those they were first shared with.
This exhibition at Untitled bar on Kingsland Road is the next stage of that new recognition. Her stylish and striking images of Lydia Lunch, Richard Hell and Anya Phillips are printed at enormous scale, lent against the silver walls of the bar to tower over patrons and provide a risqué edge to its expensive cocktails.
Intimately small snaps of Debbie Harry, David Byrne and others line the opposing wall, with some flavoursome context images placed at ankle height: a mound of cigarette butts and some leather straps and chains.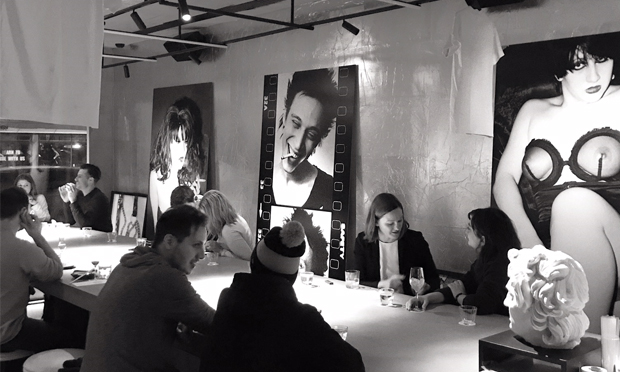 The photographs are accompanied by a new fanzine from Gorton, a document of the exhibition that probably offers a much deeper engagement with the images than a visit to the bar. As whilst the images are great, the environment of their display imposes awkwardly upon them.
Untitled bar clearly aspires to the edgy demimonde of No Wave, but it feels something of shame that an exhibition that documents a scene built on self-sufficiency is displayed in such hipster opulence.
It is of course excellent to see Gorton receive the credit due to her as a key documenter and creator of the aesthetic synonymous with the scene. But it would have been even better to see these images displayed in a real gallery, where viewing does not have to be done around other people's nights out.
Her photographs may document nightlife, but they're too important to be secondary to it.
Pretty in Punk x Julia Gorton runs at Untitled (538 Kingsland Rd, E8 4AH) until 4 April